Three in One Inflatable Carnival Game Rental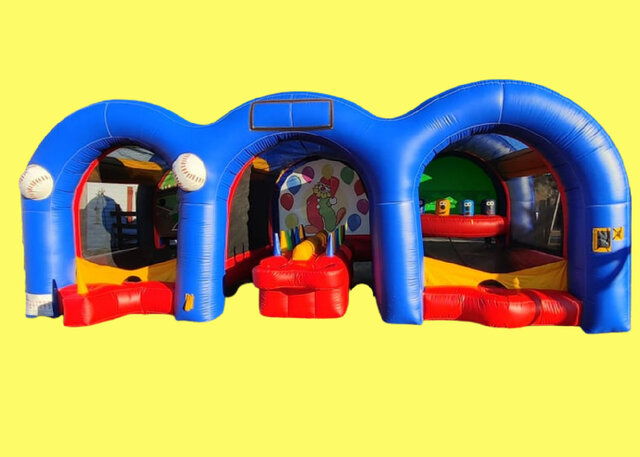 Setup Area: 12'' L X 28' W X 13' H
Actual Size: 10' L X 26' W X 12' H
Monitors: Adult Supervision Required
Outlets: 1
Age Group: 5+
Description
3-in-1 Inflatable Carnival Game Rental
Three in One Inflatable Carnival Game
Three times the fun in one game rental... now THAT is value! The Three in One Inflatable Carnival Game Rental is the perfect combination of skill games that are sure to challenge and entertain your crowd. This inflatable game rental is sure to draw a crowd and getting everyone excited about these games. They are deceptively harder than they appear which make them a great opportunity for a fund-raising event where your organization may want to run this game booth rental as a pay-to-play. Simple prizes that everyone thinks will be easy to win suddenly become an impossibility that the game player is determined to master. Your prizes can be as simple as a piece of candy, or as elaborate as you wish. While Carolina Fun Factory does not supply the prizes for these games, you may request us to source prizes for your event and we will be glad to do so. Read more about this 3-in-1 Inflatable Game Rental and how it can be the hit of your event!
T-Ball Challenge
The first game that you will encounter seems simple enough. A ball floating on air that you hit to reach a goal. Well, first of all, don't be under-whelmed by the ball floating on air because as it moves around, you will discover that your ability to have great hand to eye coordination is required to successfully hit the ball. Then, not only must you hit the ball, but you must be able to direct it toward the goal that you wish to hit with it! Super fun and super challenging! Give this game a try... it will not disappoint.
Hot Potato Race
Two player take their starting position at the back of the game where two balls floating on air will be waiting. Using the funnels that the air come out of only, you must move your ball from funnel to funnel, from the back of the game to the front of the game and deposit your ball in the basket at the front of the game first. If your ball drops then you must start completely over again from the back of the game. For larger events we suggest having your game attendant giving each player 3 chances to restart....otherwise they will be there all day. The first player who gets their ball into the basket is the WINNER. If neither player gets their ball to the basket then the ball that makes it the farthest can be deemed this winner.
Seal Ball Knockdown
These cute seals are floating balls above their mouth at the back side of the game just waiting for your player to knock them down. As the balls float on air they dance around. Sounds cute, right? Your hand to eye coordination better be darned good because it is harder than it seems! Fortunately, at the back of this game there is a pocket for the game attendant to retrieve the thrown balls. We suggest 3 tries you're out kind of rule for this game and if your event is for little kids then you can make it some combination of knock at least one ball down.