Purple Oasis Water Slide Party Package - SAVE $25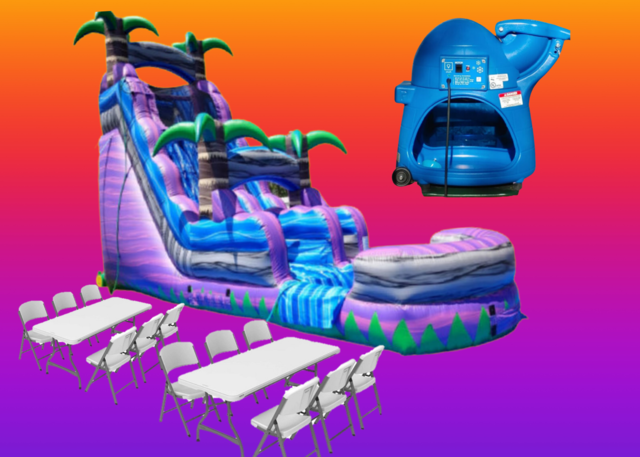 Monitors: 2
Outlets: 2
Age Group: 6+
Description
Purple Oasis Water Slide Party Package
Waterslide with Palm Trees plus Concession and Seating
Plunge Into A Cool Oasis on this Purple Water Slide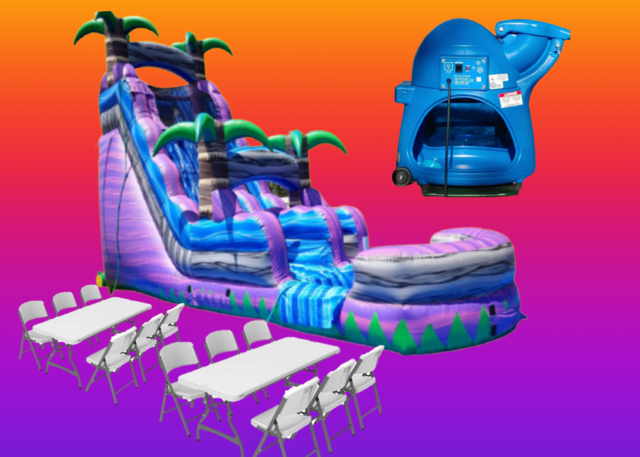 Look what's included in this rental:
Purple Oasis Water Slide (18 foot tall)

Sno Cone Machine (You supply the ice)

set of 2 flavor delicious snow cone syrup flavors

Pack of 50 Sno Cone Cups

Two 6-foot tables

12 chairs

You get all of this for UP TO 5

HOURS!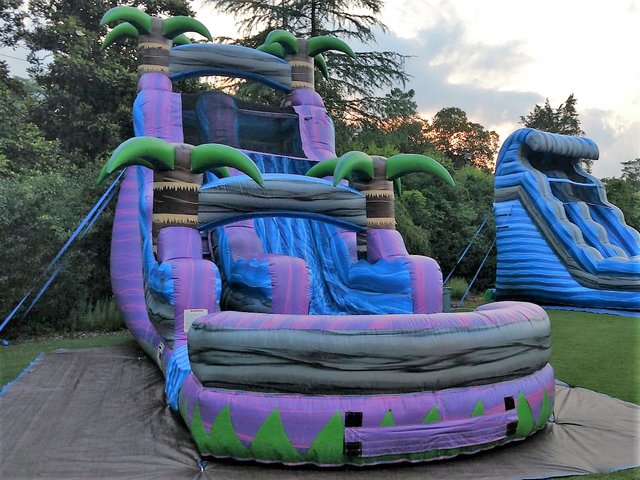 The Purple Oasis Water Slide is 18-ft of purple tropical fun! Guests will ascend up the ladder which offers both sturdy footholds and handholds to the wide landing at the top. Safety netting completely covers the top under the canopy of palm trees that shade from the sun! Once seated, be sure to be ready because it's one fast ride to the bottom where a splash down pool awaits.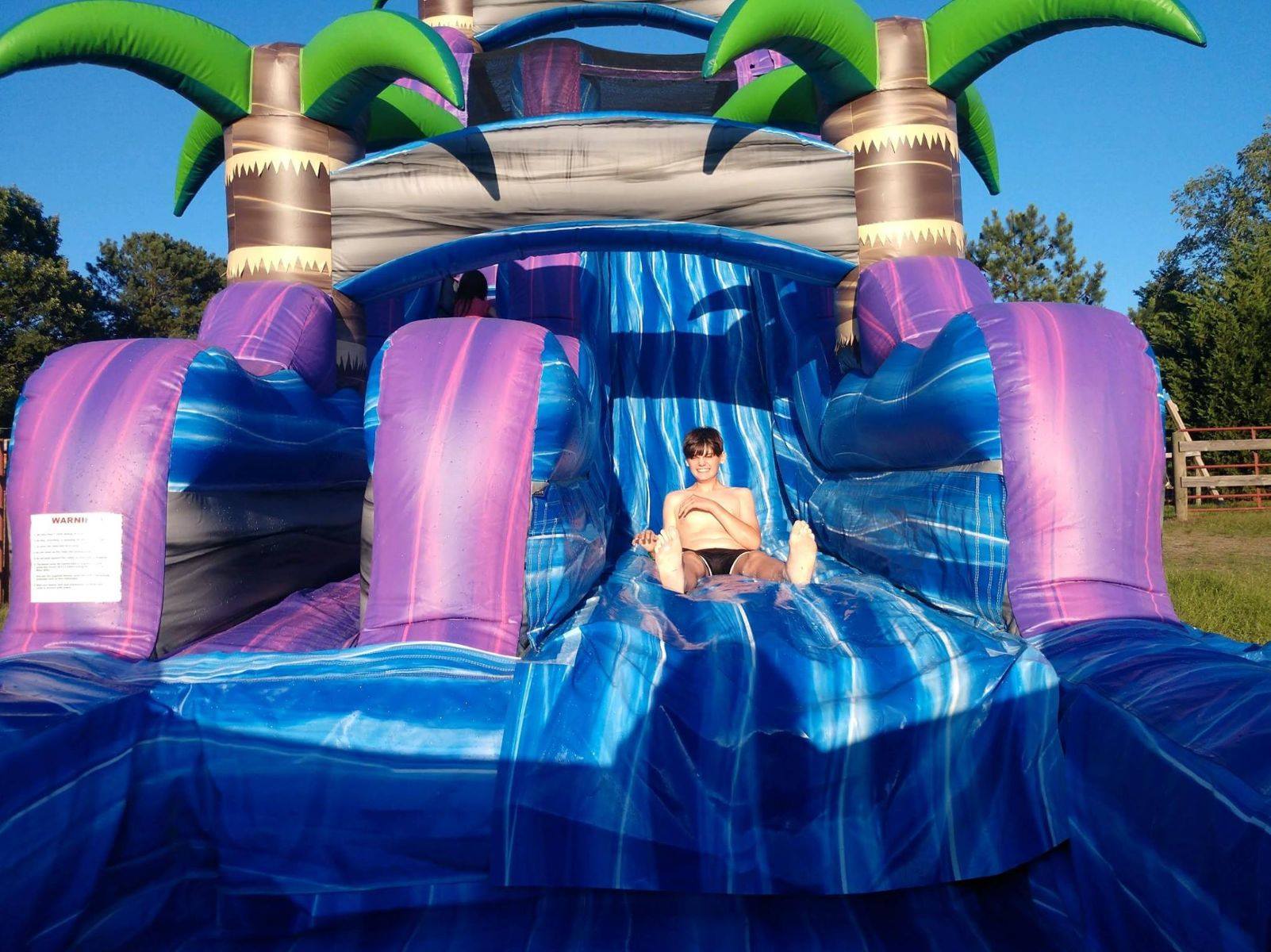 The sleek design of the Purple Oasis Water Slide allows it to fit nicely inside of most backyards. Don't be afraid to have those summer parties. The North Carolina heat is no match for the refreshing coolness that is as tropical as a purple sunset in your own private oasis.

Host the best birthday party, family reunion, church gathering, summer camp, company picnic or corporate event ever with the inclusion of the Purple Oasis Water Slide and many other of our great, rental items.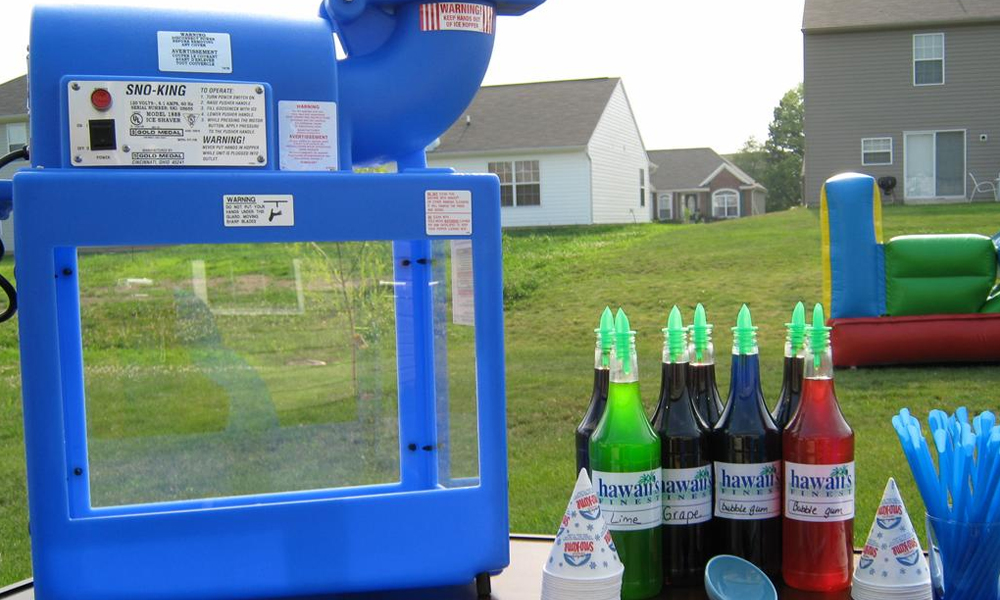 To add even more cool refreshment to your event, the Purple Oasis Water Slide Party Package comes with a snow cone machine + all of the supplies needed to make 50 servings of summertime's favorite frozen treat! (Don't forget to buy the ice as that is not included in the rental) Be sure to plan a set up area that is no more than 3ft from a grounded, 3-prong electrical outlet and have a table ready. Or, you can rent those items from us separately and let us handle the set up for you. Plan ahead to have an adult designated as the "operator" of the snowcone machine as it can not be used by children. The Snow Cone Machine is designed to grind your bagged ice into the finest, softest "snow" that is perfect for drenching with yummy snow cone syrup!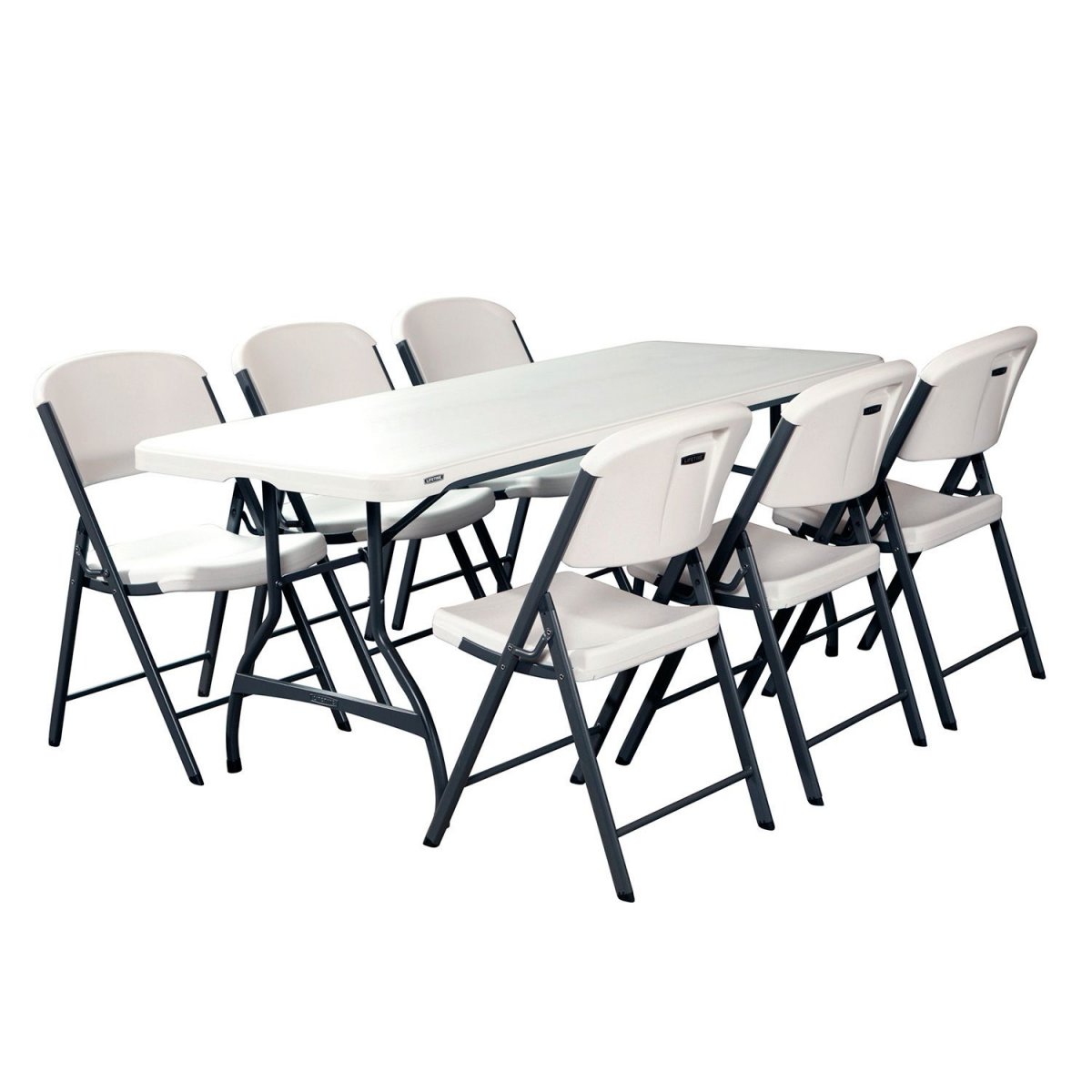 Don't worry about wet guests running in and out of your home as this package also includes 12 heavy duty chairs and 2 tables that are six foot long each. All of the fun (and the wet swimsuits) can stay outside to enjoy your event! Be sure to help your guests keep their cool by adding on a pop up canopy to your order to keep them in the shade as they enjoy the refreshments.