Letters To Santa Inflatable House
Setup Area: 18ft W x 18ft L x 18ft H
Actual Size: 13ft W x 13ft L x 16ft H
Monitors: Adult Supervision Required
Outlets: 1
Age Group: ALL
Description
Letters to Santa

Inflatable Post Office House
The "Most wonderful time of the year" is made even magical when wide-eyed children get to enter the North Pole Post Office at your event and personally give Santa Claus their letter! Create a magical moment for parents and kids who line up to come see Santa Claus and reveal what their heart's desire is. There is no floor in this inflatable so therefore no need to remove shoes before entering. Air vents are built in to the columns of this North Pole Post Office to allow ample air flow if needed because no one wants to be inside of a stuffy old post office!

Photos with Santa
The Inflatable Letters to Santa Post Office House is roomy and airy. Featuring decorative panels on the inside that depict a scene straight from Santa's Workshop at the North Pole. There is plenty of room for a family to come in with their children and have photos with Santa as they present their wishes to Santa Claus. Around the ceiling on the inside of Santa's Post Office are tabs to hold christmas lights for added lighting and sparkling magic!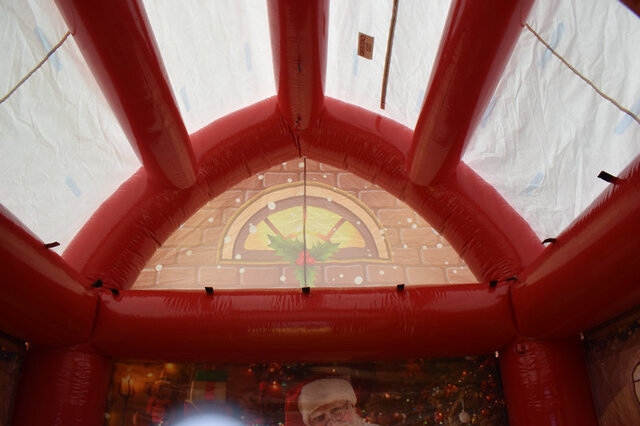 Letters To Santa Ideas
The children can create their own Letter to Santa at home or you provide a Letter To Santa station at your event. As each child visits Santa inside of Santa's Post Office to mention their most desired item that they hope to receive for Christmas they can drop their letter in the mail box that is built inside of the inflatable. If you create your own Letter to Santa creation station then you can also have a place on the letter to collect a name and email address or phone number to award a "prize" in a drawing. This is a great way to collect email addresses for future marketing to families who are already interested in your events.

Mail Letter To Santa
Bring the North Pole Post Office to your event and light up the faces of your guests with magical memories. Mailing a letter to Santa is a tradition that has spanned hundreds of years across every culture of our planet. Although Santa has many different names, he represents what we all should be: Giving and Kind. As a child visits with Santa and bring him their letter they are placing their childhood wishes into the mailbox. What a great opportunity Santa's Post Office gives to you as an event organizer to create an atmosphere of joy.
Other popular rental items that pair well with Santa's Post office is the Trackless Train, Red Velvet Rope Stanchions, and Gold Trimmed Throne Loveseat, and Santa Suit Rental.