Ladder Golf Rental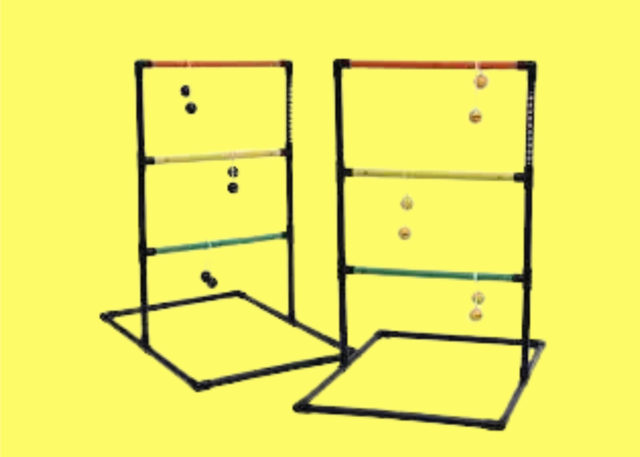 Setup Area: Indoors or Outdoors
Actual Size: H22" X L26" X W18"
Monitors: N/A
Outlets: NONE
Age Group: 8+
Description
Ladder Golf Rental
Looking for a fun and engaging game to add to your next event or party? Look no further than our Ladder Golf Rental! Ladder Golf, also known as ladder toss or ladder ball, is a popular outdoor game that is perfect for players of all ages and skill levels.
Our Ladder Golf Rental includes everything you need to set up and play the game. The set includes two sturdy ladder frames with built-in scoring systems and six bolas (two sets of three). The bolas are made of high-quality materials, ensuring durability and safety during gameplay.
Setting up the Ladder Golf Rental is quick and easy. Simply assemble the ladder frames, attach the scoring systems, and you're ready to go! The game can be played on any flat surface, making it suitable for both indoor and outdoor use.
Ladder Golf is a game of skill and strategy. The objective is to toss the bolas and wrap them around the ladder rungs to score points. The top rung is worth the most points, followed by the middle and bottom rungs. The first player or team to reach a predetermined score, typically 21 points, wins the game.
Whether you're hosting a backyard BBQ, a corporate team-building event, or a family reunion, our Ladder Golf Rental is sure to be a hit. It provides hours of entertainment and friendly competition for everyone involved. Plus, it's a great way to encourage outdoor play and social interaction.
Renting our Ladder Golf set is a cost-effective and convenient option. You don't have to worry about storing or maintaining the equipment, as we take care of all that for you. Our rental service ensures that you have access to high-quality equipment without the hassle of ownership.
So, why wait? Add some excitement to your next event with our Ladder Golf Rental. Contact us today to reserve your set and make your gathering a memorable one!