Inflatable Race Track Rental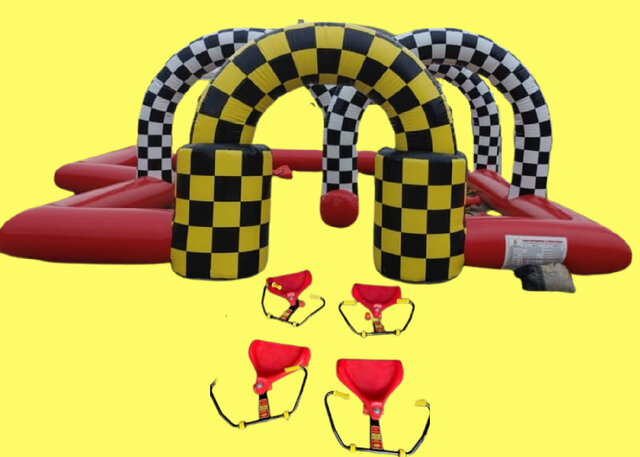 Setup Area: 32L x 27W x 11H
Actual Size: 22ft L x 17ft 2in W x 7ft 8in H
Monitors: 1
Outlets: 1
Description
Inflatable Race Track Rental
Racing Game with Inflatable Track
Inflatable Race Track Game
Start your engines and get ready for a spin around the track on a scooter. The inflatable race track brings excitement to your event and allows 4 kids to race each other to the finish line on a red scooter that gets its momentum by steering it back and forth. The Inflatable Race Track can be set up on any hard surface such as a parking lot or a gymnasium floor. The Roller Racer racing scooters are not suitable for use on grass and it is best if your area can be level.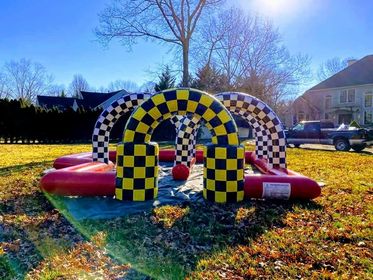 Interactive Racing Game
The inflatable course starts off with a starting line and competitors can be allowed to complete however many loops you wish before announcing the 'final lap' and cheering them on to the finish line. This is a short track which is great for events where there are a lot of children to get through the game. Guests who are watching will be able to stand around the track and cheer their favorite little racer on to victory.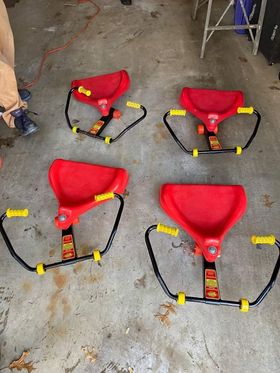 Child Size Roller Racer Racing Scooters
These child sized Roller Racer racing scooters work best on a hard surface such as a paved parking lot or a gymnasium floor. The will not roll effectively in grass or on a rough surface. The operate by the child sitting on the seat and placing their feet on the yellow food markers in front of them. As they child holds on to the yellow handle bar grip and moves their feet and hands back and forth then the motion creates a forward momentum and will make them go forward! This is so much fun that the child doesn't really care as much about winning the race as they love the feeling of moving forward on the self propelled floor scooters.