Golf Challenge Carnival Frame Game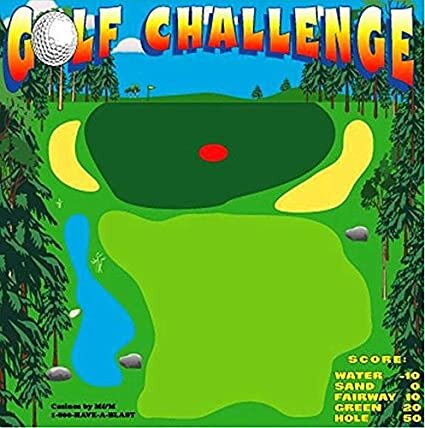 Setup Area: Indoors or Outdoors
Actual Size: 7 feet wide and 7 feed tall
Monitors: 1
Age Group: ALL
Description
Golf Challenge Carnival Frame Game Rental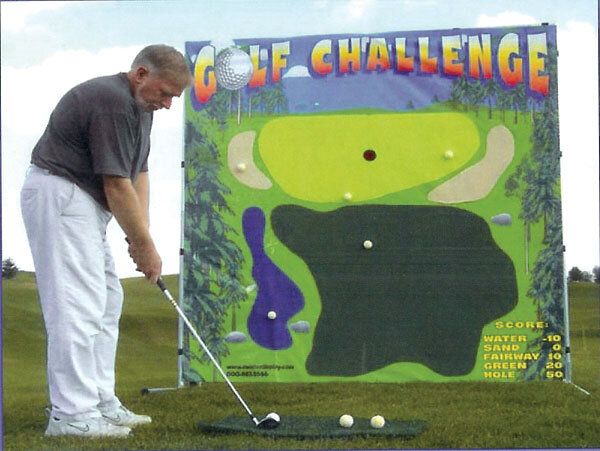 You don't have to be on the PGA circuit to enjoy testing your skill with this colorful golf chipping challenge game rental. The Golf Challenge is a velcro receptive game that has five different challenge elements on the frame and different point values assigned to each element. The player will use a chipping wedge to chip a sticky velcro ball onto the board while trying to avoid sending their ball into the sand trap where they will score 0 points or dropping their ball into the water where the player will lose 10 points. The higher the points the player is able to score the better their game. This game is great for a trade show because of its great visual impact and the attraction that it has for people who like to play golf.

Adult supervision is required at all times.

Many venues will provide a small prize for each player to show participation. This provides a great opportunity when used at a business location to hand out your promotional material. Prizes are NOT provided by Carolina Fun Factory for this game at this rental rate. Please indicate in the Customer Comments section, or contact our office at 910-986-4774 if you will need prizes to give out to players of this game.

Please note that this is not a stand alone rental item because it will not meet our minimum order on its own, but is generally added onto a package of rental items. We are more than happy to discuss your event details and assist you with coming up with a package that will appeal to a broad range of participants.