Portable Outdoor Movie Screen Rental
Setup Area: 50-ft width by 80-ft length by 36-feet height
Actual Size: 33-ft width by 20-ft length by 30-ft height
Monitors: 1
Outlets: 3
Age Group: ALL
Description
Portable Outdoor Movie Screen Rental
Rent a Projector Near Me for Drive-In Movie
Social Distancing Movie Rentals
Rental comes with:
Largest Screen: 28'feet wide x 21 feet tall ... Please read the Set Up Area and the Actual Size for the overall dimensions of this unit
5500 Lumens Projector
2 speakers and mixer
FM Transmitter
DVD / Blu-Ray player
Movie technician to ensure your event is a success from start to finish
Great for crowds!
Generator
Please be advised that the price listed is for a GRASS setup. Staking the unit into the ground with stakes is the safest and preferred way of anchoring this unit. Anchoring the unit keeps the screen still for better viewing and also keeps the unit in place during your event. If a parking lot is your only option for set up, then an alternative method of anchoring is to sandbag the unit in place. Please be advised that this method of anchoring will incur a $200.00 hard surface setup fee. You can select your setup method once you add the item to your cart and submit your information.
When planning your Inflatable Movie Night event please be aware of when sunset is for the date and time of your event. What we like to do is ask Google when is sunset on a particular date and year, and then we have the correct information to proceed with planning. Due to the nature of the projector screen, it is not optimal to try to schedule your movie to start before sunset. For best quality, you need to schedule your movie to begin 15 minutes after sunset.
---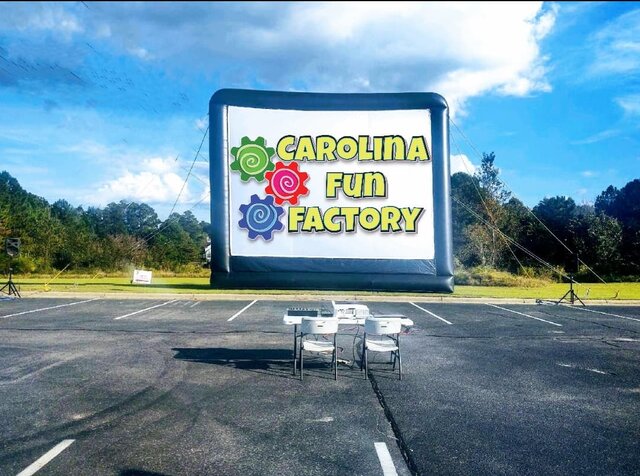 No more boring weekends with "nothing to do"...Carolina Fun Factory has answered the question of what there is to do with our Outdoor Movie Screen rental. Our huge inflatable movie screen rental is perfect for your Central North Carolina event under the stars! You won't find a better inflatable movie screen rental to serve a large crowd than what we have to offer here at Carolina Fun Factory. We know how to throw a party in a big way with one of the area's largest giant inflatable outdoor movie screens. Bring back the nostalgia of the drive-in movie theater to your next event with our turn-key movie screen rental.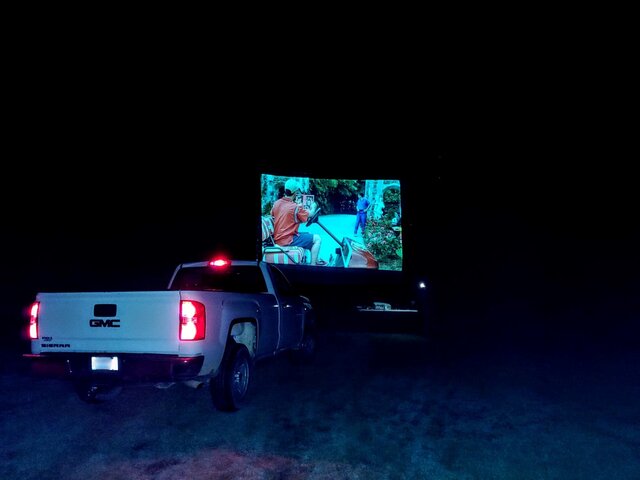 Host your own neighborhood drive-in movie right and bring the crowd together for a community outdoor movie experience under the stars. Many North Carolina neighborhoods and HOA's are coming together to create a spirit of unity and pride in their neighborhood by hosting Movie Night Under the Stars. All you need to host an outdoor movie event is your licensed Blu-Ray or DVD and a crowd of fun-loving families. Don't forget the games such as corn hole and Oversize Connect Four to provide entertainment value to your guests while they wait for the sun to set. Complete your event by serving up some fresh popped movie-style buttered popcorn to your guests while they wait for the movie to start and during the movie. This is the perfect snack food to enjoy during your own showing of your favorite family-favorite movie at your own outdoor venue.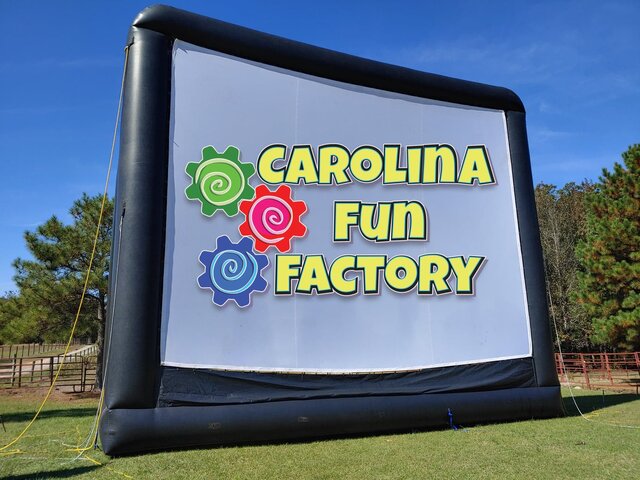 This is a turn-key event for your organization but please do be aware that you do have certain responsibilities in order to be compliant with the law. First, if you are planning to show a movie at an outdoor location then you must secure the venue with the property owner. We are fully insured for our outdoor inflatable movie screen and can gladly provide a Certificate of Insurance at no charge upon request. You need to know the space where you are envisioning the giant inflatable movie screen set up and check for any underground utilities that may be present in the area. Carolina Fun Factory is not responsible for striking any underground utilities if they have not been marked and we are not aware that they are present. Again, we urge you to pay attention to the dimensions of the large blow-up movie screen that is listed at the top of this page and physically measure your setup area to ensure that you have enough room. If we arrive at your location and are not able to set up due to obstructions with tree limbs, shrubbery, underground utilities then you are still responsible for payment in full. We will gladly work with you prior to the event date and provide a site check at the same rate as the delivery fee would be for your location. This fee is non-refundable and must be paid prior to the site check. Finally, to be compliant with the law please read the following statement below and contact the authorized licensing agencies to secure your permissions to show a public outdoor movie.
***If you are showing an outdoor movie to the public, you must get movies through Swank Motion Pictures or Criterion Pictures to avoid copyright infringement.
Swank Motion Pictures 1-800-876-5577
Criterion Pictures 1-800-565-1996