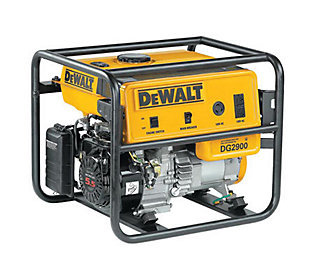 DeWalt DG 2900 Generator
If you are setting up at a park or in a remote area where power may be limited then please remember to add a generator to your shopping cart. The DeWalt DG2900 Generator is a smaller unit that provides power to one electrical device. The largest inflatables are inflated by a 2HP blower and this generator will work for up to a 2HP blower. If you need to power more than one device then please ask about larger generators.

The operating time of this generator on a full tank of regular, unleaded gasoline is 4 hours. If your event will exceed the 4 hour operational time of this generator then you will need to provide your own fuel can with regular, unleaded gasoline for refills of the generator to continue with operation. Please note: The inflatable device MUST be evacuated, the blower turned off and the generator shut down for refilling. Once refilled, you may then restart the generator and turn back on the blower and once the inflatable device is reinflated your guests may continue to use the ride.