Cornhole Board Set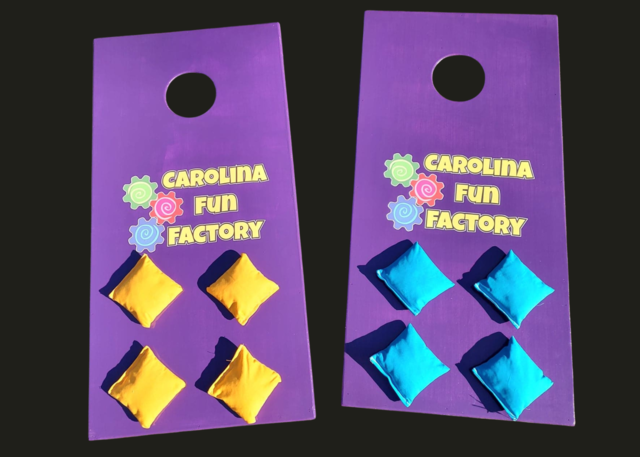 Description
Yard Games Rental: Cornhole Board Game Sets
Cornhole Board Rentals
Why Rent Cornhole Boards
Having a wedding, company picnic or church event? Rent a few sets of cornhole boards and watch everyone have a great time at your event as they play this popular outdoor game. When you rent games for adults to enjoy at your event you create an atmosphere that says fun and that is the reason for hosting an event anyway. Cornhole board rentals are an easy way to promote an atmosphere of fun and excitement. Cornhole board rentals are affordable and do not require electricity which makes them easy to set up almost anywhere. The flexibility of renting cornhole boards as compared to purchasing multiple sets also means you're not having to store them when not in use. Let's be honest, most of us already have more stuff than we need to storage for no more than it is used so saving your valuable space by renting cornhole boards for your next event makes more sense.
Cornhole Tournament Game Board Rentals
As the popularity of cornhole has risen so has opportunities to show off your skills and have a great time. You will find cornhole tournaments at many company picnics as this allows people of all backgrounds to come together to have a great time. Who knows, maybe being the cornhole tournament winner will lead to that promotion you have been wanting once you show off your ability to remain focused under pressure. If you are in charge of planning the cornhole tournament then you will need several cornhole board game sets depending upon how many teams you have sign up. Be sure that you rent regulation sized cornhole game boards for your tournament that come with heavy duty cornhole bags which is what you get from Carolina Fun Factory.