Caveman Inflatable Dual Lane Axe Throwing Game Rental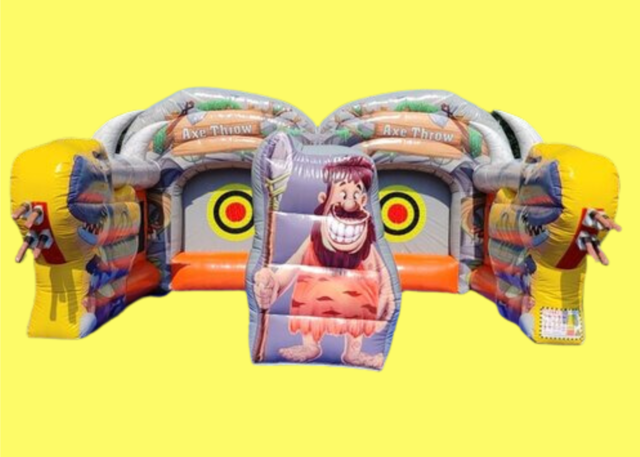 Setup Area: Length: 23ft x Width:23ft x Height: 12ft
Actual Size: Length: 13ft × Width:19ft × Height: 10ft
Monitors: 1
Outlets: 1
Age Group: 5+
Description
Caveman Inflatable Dual Lane Axe Throwing Game Rental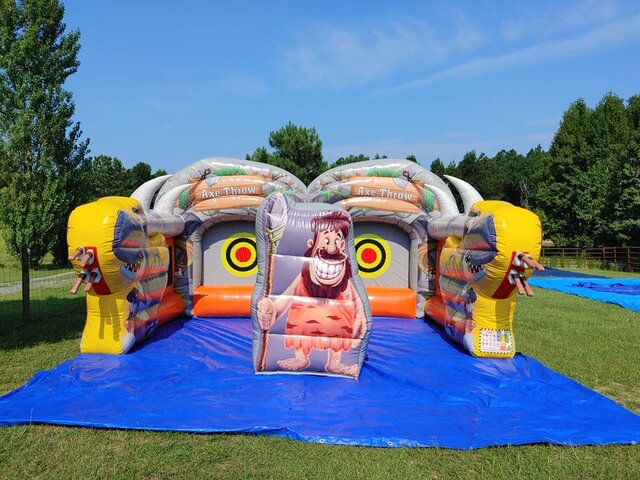 When you are hungry for fun then the Caveman Inflatable Dual Lane Axe Throwing Game Rental is a great way to satisfy your party and event guests. Players pair up in this dual lane axe throwing game to see who has the most accurate throw to hit the bullseye. This inflatable ax-throwing game really hits the mark with players of all ages. Get your cameras ready to see who will hit their target...and who goes away empty-handed.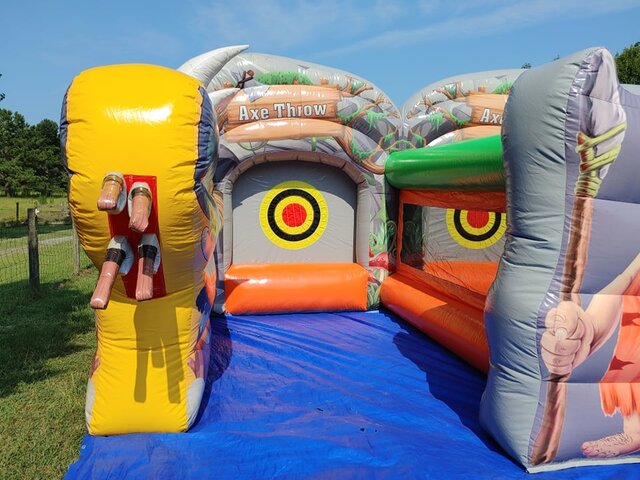 Portable Axe Throwing Game Rentals
Watch the portable ax-throwing game rental bring out the wild side as guests throw soft velcro-receptive axes towards the target. Each player gets their own lane. There are side viewing windows so spectators can catch the action. The soft axes are easy to hold by small hands as well and no need to worry about missing toes if anyone drops one!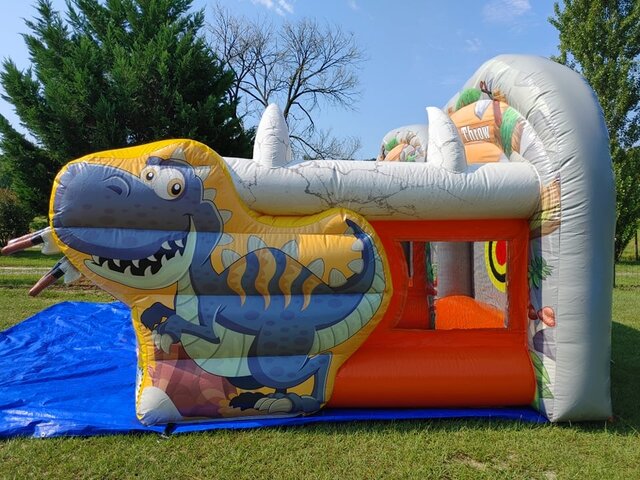 How to Axe Throwing Games
Playing the Dual Lane Inflatable Ax-Throwing Game is really simple. Players will stand at the end of their lane and pull an axe off of the sidewall. Then the player will keep their eye on the bullseye and throw overhanded to try to hit the center. Hitting the bullseye is the desired outcome of course, but there are also other rings outside of the bullseye center that can be assigned value as well. Each player is provided 4 axes to throw towards the target. You can play by setting the rules to allow the closest to hit the bullseye to be announced the winner, or the player who gets the most axes to stick to the wall to be the winner. You may feel free to make the rules up as you go along! The only real rule is to have FUN!