Home Run Party Package
Baseball Themed Party: Home Run Party Package
The Home Run Party Package baseball themed rentals
Baseball Themed High Striker Game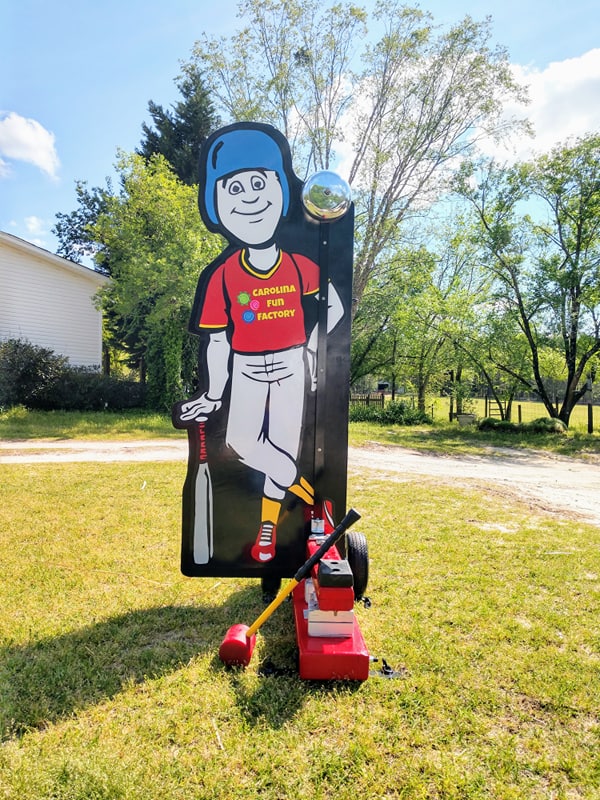 Step right up to this kid sized High Striker game and take your best swing with the mallet to ring the bell for a home run. This game is great fun for kids and adults to try. The colorful baseball theme graphic stands close to six feet tall and is a great focal point to your event. You can set this game up to award prizes for those who hit the bell and have a great end of the party wrap up when handing out baseball themed party favors to your guests. This baseball themed high striker game comes with the rubber mallet. Adult supervision is required.
Baseball Challenge Inflatable Game
Batter up to the Baseball Challenge Game to score as many points as you can by hitting the plastic ball that floats on air into one of the holes on the back of this inflatable baseball game rental. This is an inflatable game that requires one outlet nearby to power the blower that keeps the unit inflated and also pushes air up from the yellow cone in the front of the inflatable batting cage. The player swings a plastic bat to hit the ball off of its pillow of air an tries to score by getting the ball into one of the holes marked with points awarded for making it into the hole on the back wall of the blow up batting cage. It is fun to play for all ages and gets all of your guests involved in your baseball themed party. This inflatable batting cage comes with an assortment of plastic balls and a plastic bat. Requires one electrical outlet nearby on its own circuit. Adult supervision is required.
Inflatable Sports Bounce House with Slide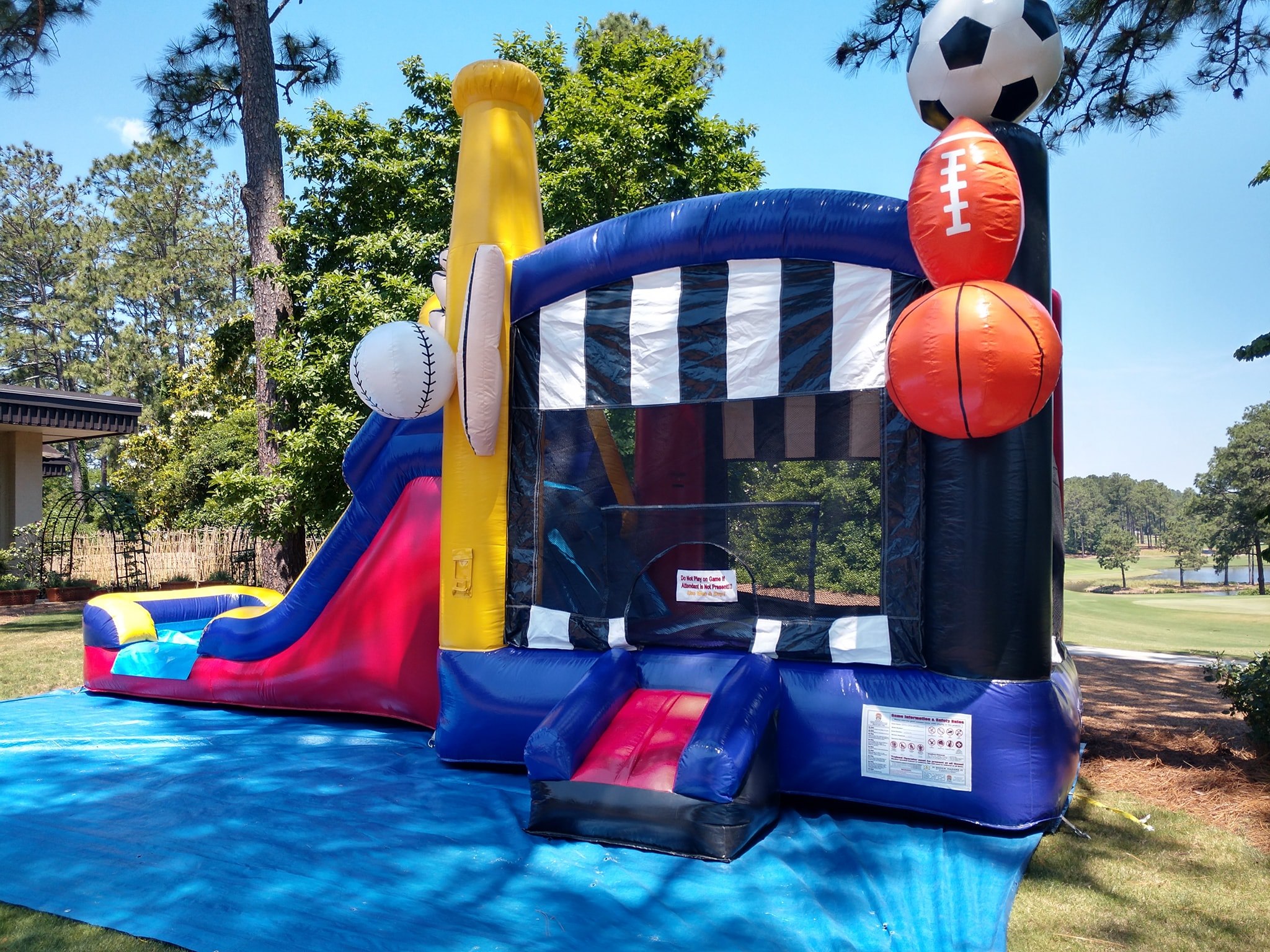 Celebrating a sports themed party is easy with a fun inflatable bounce house with slide that cheers on sports lovers of all genres. Whether your game is baseball, soccer, football or basketball this is the bounce house combo that covers it all. This large inflatable jumper has finger safe mesh on three sides to allow for easy viewing by parents and also air flow within the jump house. A giant baseball bat is a corner of the bounce house along with a catchers mitt and a baseball. The lively colors of this sports themed bounce house scores a big win with both boys and girls. This is the perfect inflatable addition to your baseball themed party or event. Requires one electrical outlet nearby on its own circuit. Adult supervision is required.
Popcorn Machine and Supplies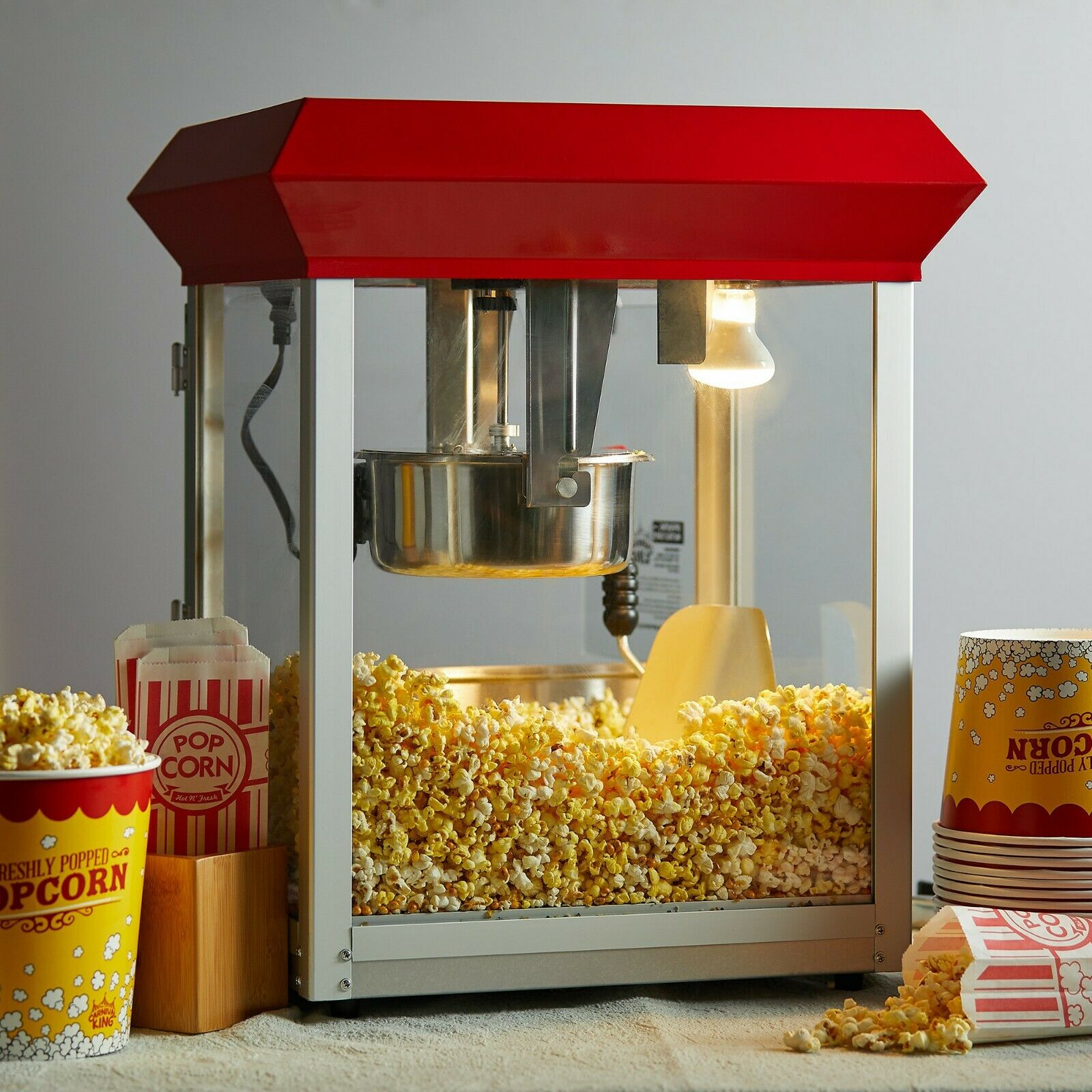 Take me out to the ballgame and don't forget the yummy popcorn. This baseball themed party games package would not be complete if it did not contain a popcorn concession rental that comes with 50 servings of hot and fresh popped kernels of corn that are sure to delight your guests. Serving popcorn at your baseball themed event makes sense and will stretch your food budget as well because it will satisfy the hunger created by playing the baseball party games. You will need to provide a table, or rent one from us, to set the popcorn machine on as well as have an outlet that is on a different circuit for providing power to the machine. Machine may be operated by an adult only.