Diamond the Unicorn
Actual Size: 90 Pound Weight Limit
Setup Area: Level area free from holes or steep grades.
Outlets: 0
Age Group: 2+ (90 pounds rider weight limit)
Attendants: 1





$399.99

Please call to reserve this item

Unicorn Pony Rental: birthday parties, special events, and photoshoots
Unicorn Rental in NC
AVAILABLE OCTOBER 2021
The magic of unicorns has existed for centuries and remains an intriguing symbol of freedom, mystery, and power. No wonder children and adults are still fascinated with this mythological creature. The popularity of unicorns has risen so much that you can now see them everywhere you turn while shopping. This is great news for birthday party planners as the abundance of unicorn-themed party items is astounding and makes it easy to put together that unicorn party theme. But what about if your child is asking for more than a unicorn pinata and wants a real live unicorn for pony rides at their party? Well, you're in luck because Diamond the Unicorn is one of the most beautiful and gentlest live unicorns to make those wishes come true! Special events are made even more special with a magical appearance of a unicorn.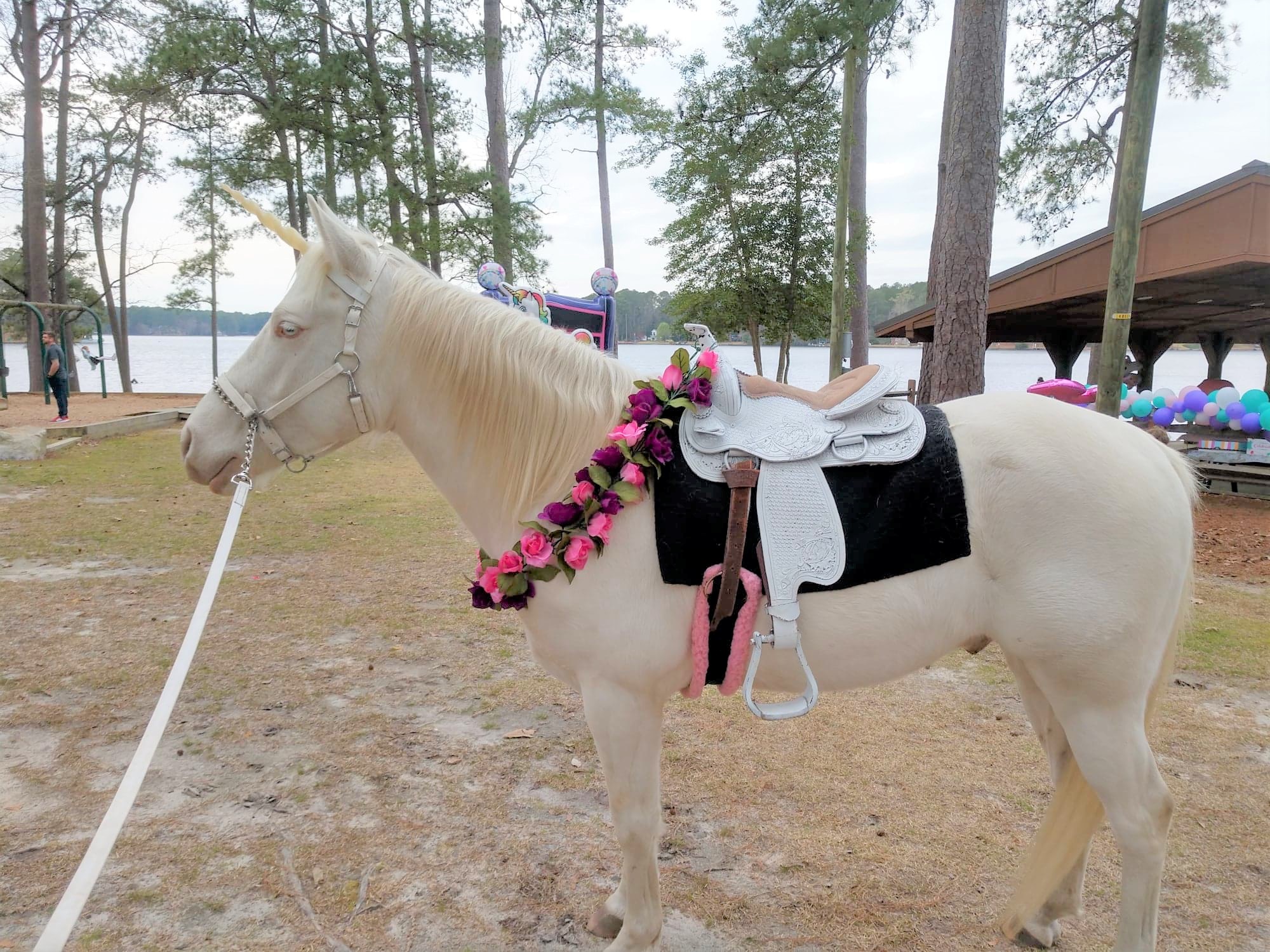 Unicorn Pony Rides
When considering a pony ride service to come to your event for children to enjoy unicorn pony rides, you want to make sure that you're contracting a provider that is experienced and bringing a pony that is trained and ready for the kind of experience that unicorn pony will encounter while at a birthday party. Let's face it....parties are exciting places for children, and for ponies....especially unicorn pony rides. We are proud to present Diamond the Unicorn for your consideration to hire a unicorn pony ride for your unicorn themed birthday party. Diamond is a beautiful pony with his all cream colored coat and sparkly, crystal blue eyes but what makes him even more beautiful is his gentle personality.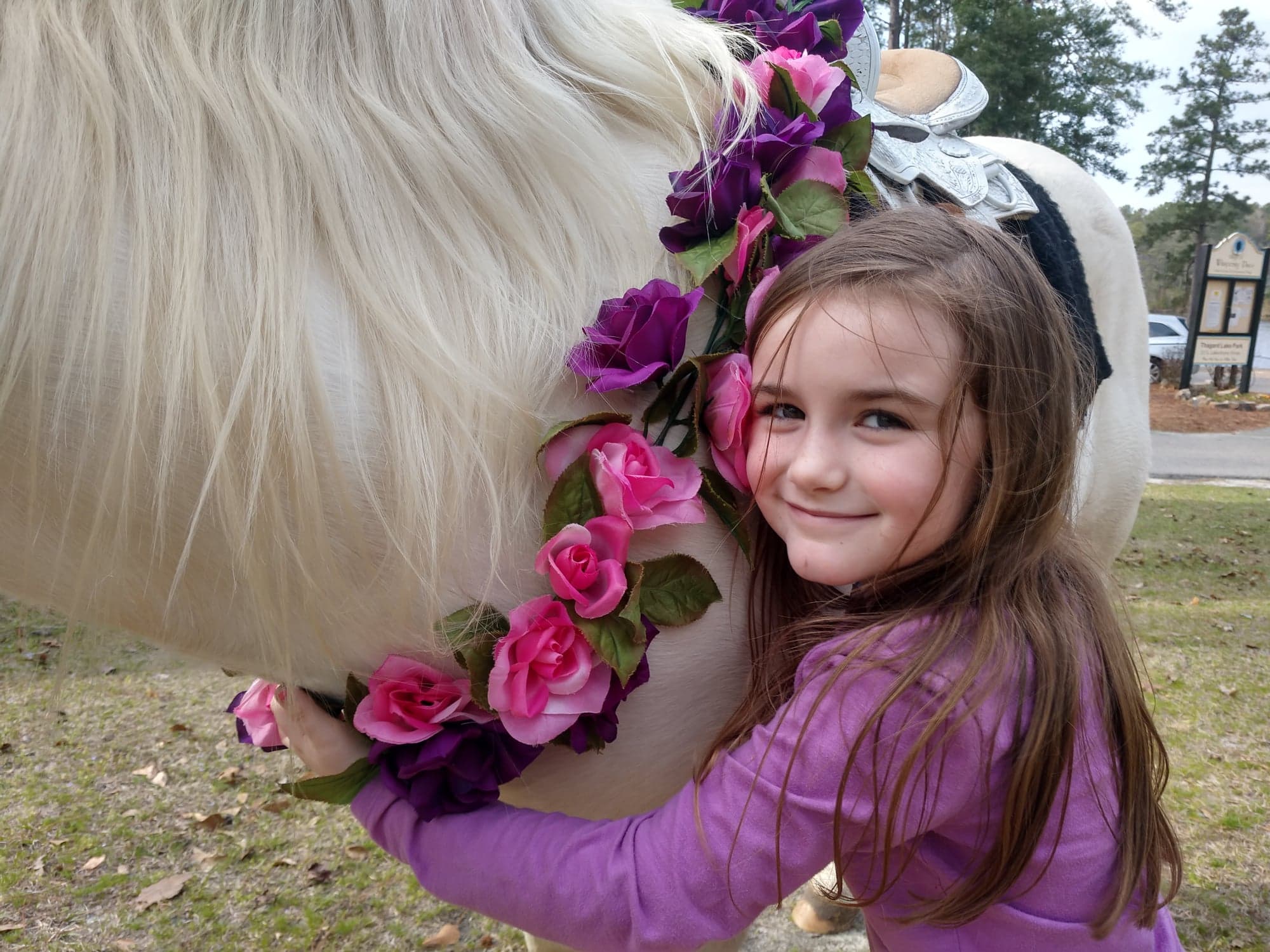 Unicorn for Birthday Party
Diamond is ready for his job to provide unicorn pony rides as he wears a custom white saddle and a solid white halter with an impressive acrylic, glittery white horn that you would nearly believe is a real unicorn horn! While children take turns with the unicorn pony rides parents will enjoy taking pictures and living in the moment when magic is real. Guests will be led around by a trained handler that takes safety of the children, guests, and the pony very seriously. Of course we still need parents and adult attendees to be watchful as well as having unicorn pony rides makes children very excited as they anticipate their turn. Children as young as 1 year old may sit on the pony with an adult standing next to and hold onto the child for a picture to be made. Children who are 2 - 3 years old may ride with an adult walking next to the child and holding on to the child. Unicorn pony riders who are 4 years old and older may ride independently but please do keep in mind that rides are limited to children only and riders have a safe weight limit of no more than 90 pounds to be able to participate in unicorn pony rides with Diamond the Unicorn.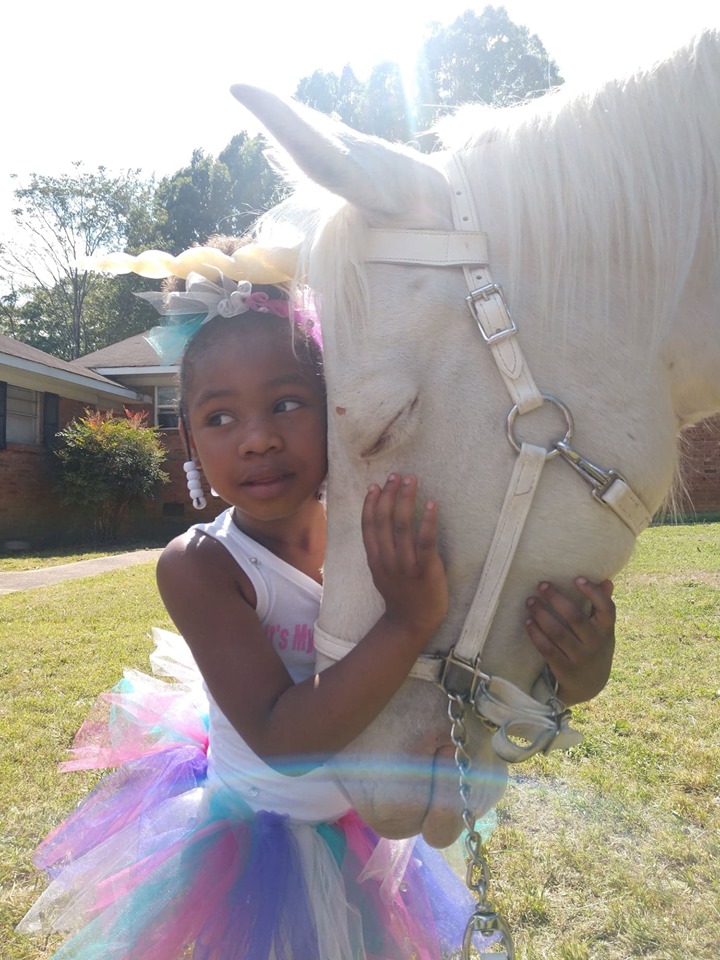 Rent Unicorn for Photo Shoot NC
If you're looking for a Unicorn Photo Session with Diamond, then please feel free to give us a call. If you're a photographer looking for a unicorn for a photo shoot for a more diverse clientele then Diamond the Unicorn perfect fit. You will love the fact that his white leather halter is easy to remove from your final image designs and the acrylic horn has touches of glitter in it to catch the sun and make it naturally sparkle. The acrylic horn also appears to glow from within as it catches the sunlight. Diamond the Unicorn doesn't mind traveling to meet those who truly believe in him! So if you have a location for a photo shoot in your area then give us a call and we can work with you. If you're looking for a place to have a unicorn photo shoot in the central NC area then your search is over. Our beautiful 22-acre farm located near Fayetteville, NC is a magical place for a magical unicorn experience.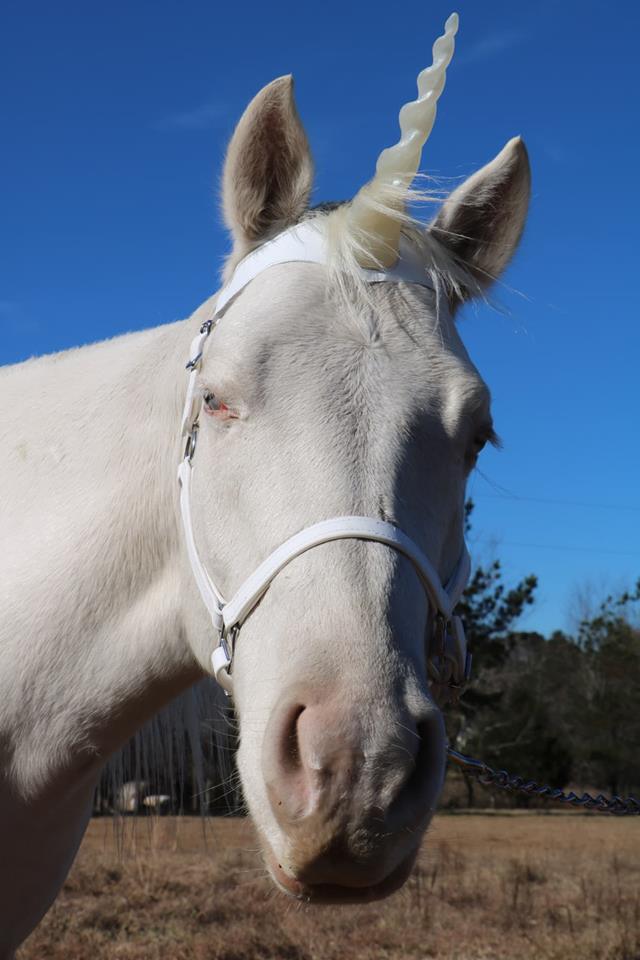 Real Unicorn Rental
Diamond the Unicorn is part of our Carolina Fun Factory family, and really seems to enjoy his job! We make every effort in our love for Diamond the Unicorn to take care of his needs before we ask him to take care of yours. His costume is thoughtfully designed for his comfort and for your child's safety.
Diamond has a custom made pearly white acrylic horn with embedded glitter accents. The "horn" mysteriously stays in place by being attached to a brow band which is part of the halter. The horn does not harm or bother Diamond but it is made of a harder acrylic material so caution is needed to be exercised to not stand near the head. Diamond wears a wreath of pink and purple roses around his neck. For photos, Diamond can appear with no saddle as a photo-op subject and as a party pony Diamond wears a black saddle blanket and a custom white saddle.
---
Please note: Diamond the Unicorn is a Large Pony - carries riders ages 12 and under and weighing up to 90 pounds.
Rental Rate: $299.99 for first hour then just $100.00 each additional hour
Please keep dogs inside for the duration that the pony is present on the premises.
Please plan a ride area away from inflatables, grills, trampolines, and other busy activities.
Pony Rides require level ground that is free from any holes, trip hazards.
Have a helper for the children to assist in getting on and off of the pony. (Dads are great for this!)