Ultimate Unicorn Party Package
Ultimate Unicorn Party Package
Outdoor Unicorn Party
Ultimate Unicorn Birthday Party
The Ultimate Unicorn Party Package offers a special price for a 2-Hour Party with Unicorn Pony rides, the Unicorn Bounce House DRY, Cotton Candy Machine plus supplies. If you would like add'l time then each hour afterwards is just $100.00 per hour. Regular price of this party if ordered separately would be $619.99 but through this package you can enjoy the ease of ordering your party and save money. The Ultimate Unicorn Party Package is a great way to host an outdoor unicorn party for your unicorn crazy girl and her friends in the comfort of the great outdoors and at the privacy of your own location. If your birthday girl is asking for a unicorn birthday party then you definitely want to take advantage of the ease this package provides in getting everything in one location and saving money as well. What more could a mom (or dad) want when planning a unicorn party besides saving time and money.

NOTE: For the well being of the animal the Ultimate Unicorn Party Package is ONLY available during the cooler months of October through May
Ultimate Unicorn Pony Party
It's the most Ultimate Unicorn Party Package you can ever imagine! Your unicorn loving child and guests won't be able to believe their eyes when a real, live decorated unicorn pony makes an appearance for two hours of rides and photographic moments. This solid white pony has two of the most beautiful crystal blue eyes you will ever see. He is large enough to handle riders up to 90 pounds but gentle and slow which the younger children enjoy. His beauty is only out shined by his gentle nature making this unicorn the most ultimate unicorn ever. Of course everything about the Ultimate Unicorn Birthday Party is unique just like the custom made white saddle that the unicorn wears. Adorned by pink and purple roses around his neck, this ultimate unicorn is just lovely and will make quite the impression at your unicorn birthday party.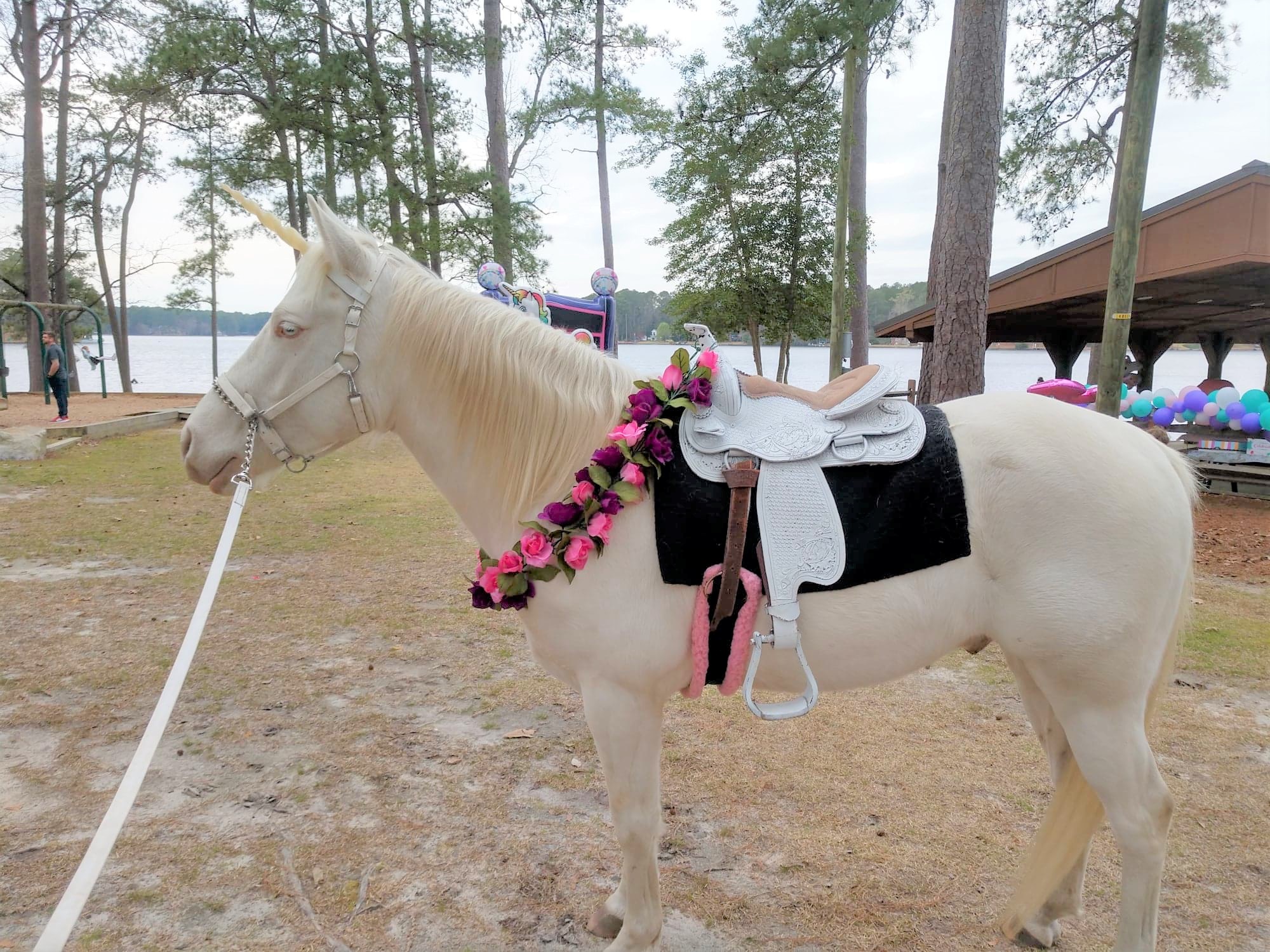 Ultimate Unicorn Bounce House
Of course, this would not be the Ultimate Unicorn Party Package without an amazing, 3-D Unicorn combo bounce house! That's right! Enter the world of the unicorn and all things magical with this colorful bounce house designed with a slide. Having a jump castle at your ultimate unicorn party will give a handful of guests a fun activity while the unicorn rides are going on. Your guests will be delighted to have such fun activities that definitely scream UNICORN and you will find it very easy to plan your unicorn party theme around the vibrant pink and purple colors of this unicorn bounce castle. The rainbow colors of the mane and tail on the giant unicorn positioned over the opening of the bounce castle will definitely tie in to your party decor.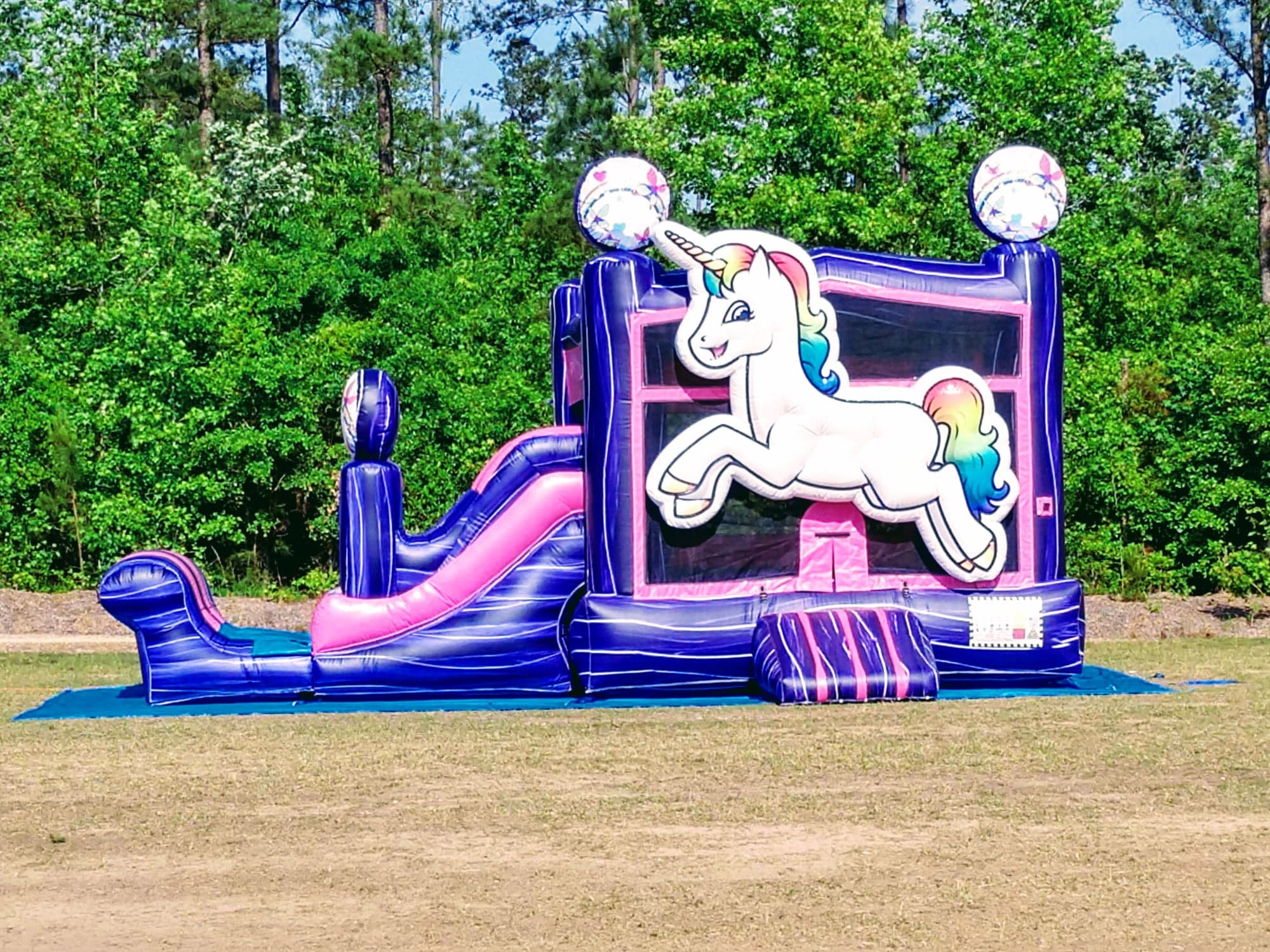 Ultimate Unicorn Party Food
Sweeten the day with delicious cotton candy....ahem, unicorn horns stuck in the clouds! Puffy clouds of sweet delicious goodness is called cotton candy by those who do not believe in unicorns. Okay, perhaps it is cotton candy but it is so much more fun pretending and using our imaginations in this ultimate unicorn birthday party. You will get to choose your favorite flavor when you reserve the Ultimate Unicorn Party Package. Your choices are either Pink Vanilla or Blue Raspberry. Both are equally delicious and will also make great take home gifts if you choose to package the cotton candy in resealable bags to let the kids take some home. Your party package will include one carton of floss that will make up to fifty large servings and fifty white cotton candy cones but if you want to make extra as take home gifts then you will need to provide your own resealable gallon sized bags to be able to do so.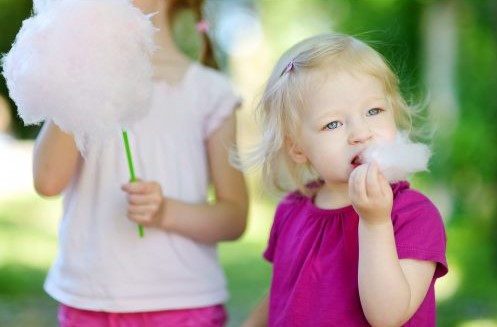 This is the ultimate unicorn party of a lifetime that is sure to be remembered by everyone for many years to come. Save time and save money when you select the Ultimate Unicorn Party Package for your outside unicorn birthday party.