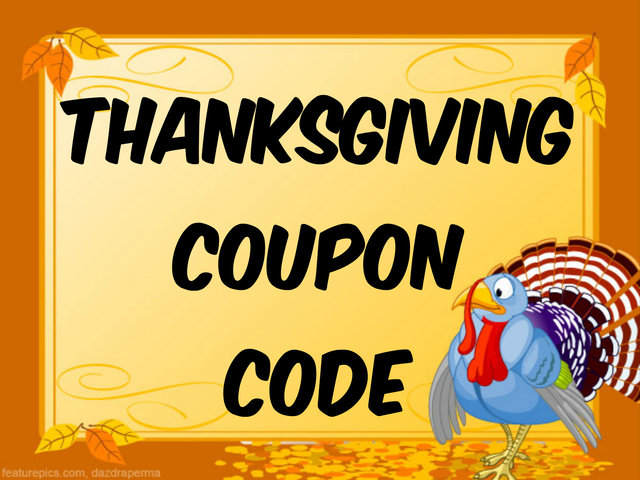 Thanksgiving Coupon Code
Discount Party Rentals
Grab this coupon code and enjoy a special rental rate on your party and event rentals this Thanksgiving 2019. We are thankful for our valued customers and wish to express our sincere appreciation on this day of Thanks Giving. We will also be taking Thanksgiving Day off and spending time with our friends and family as well so to be able to server your event and party rental needs we are happy to extend this special offer on many of our popular party rentals.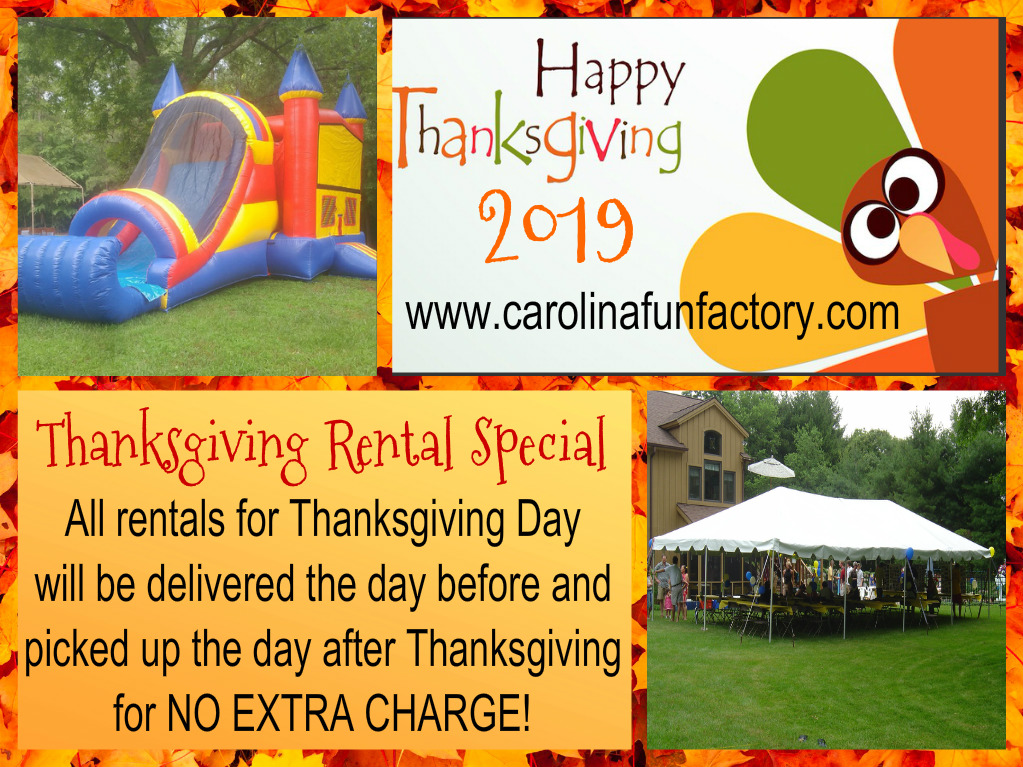 Exclusions do apply, of course and we want to be transparent about that before you begin placing your order. Please understand that no other special promotions or discounts will be applied while taking advantage of this special offer. Different areas are also still under a Minimum Order restriction and different travel charges apply to different areas. This special rental rate is ONLY applicable to the following categories:
bounce house rentals
obstacle course rentals
combo jump and slide rentals
tent rentals
party chair rentals
party table rentals
party game rentals
concession rentals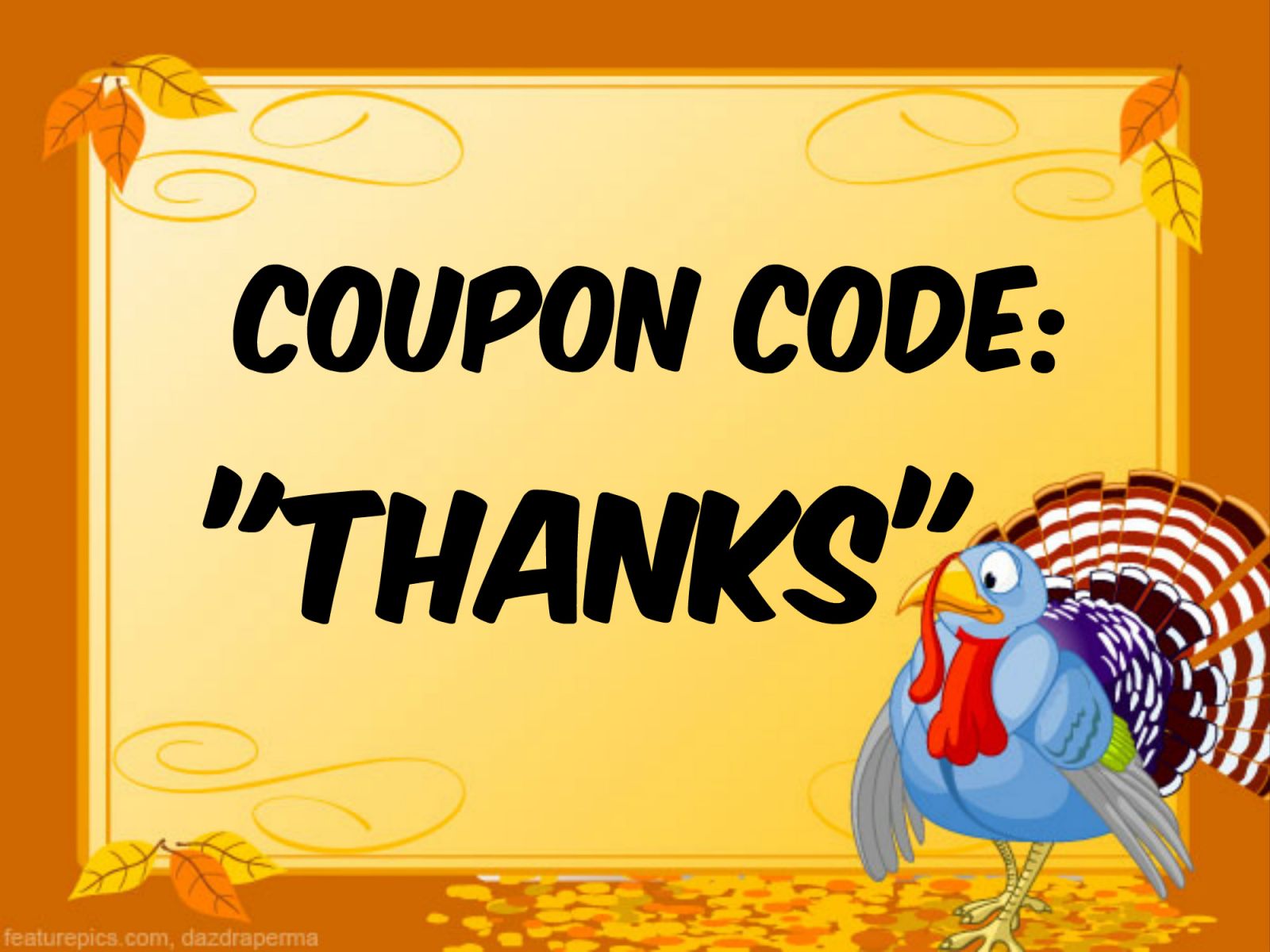 It's easy to use your Coupon Code for your Party Rentals. Simply click the purple "Add To Cart" button above then continue to browse our amazing website in the categories listed above that qualify for the special then fill up your cart. Don't be shy! You know you don't want those kids destroying your house all day on Thanksgiving and Uncle Scott is going to need his nap after eating his third piece of pumpkin pie, so live it up a little and fill up the cart!
You will be asked to put in the date of your rental...this should be an easy one...it's November 28, 2019...Thanksgiving Day! Next you'll be asked to select a time. Be random, this doesn't matter because you're getting it the day before anyway. Just select a 5 hour period of time so you don't confuse the system and get charged for additional time. To keep it easy, select noon til 5pm.
Ok, on to the next screen...this is where you'll put in your information. PLEASE include TWO cell phone numbers so we can reach someone in case there are questions about your order or how to find your address.
Here is the important part...if you're selecting inflatables then please select the correct set up surface for that. We 100% prefer to stake these things to the ground...front yard, back yard, we don't care as long as there is nothing underground that we would strike. If you select anything other than "Staked to the Ground" there will be an additional charge applied to the inflatable. Just want you to know. You'll see what that charge is on the next screen.
Click NO to the after 9pm pick up and also click NO to the park delivery (PS: We can NOT deliver these items to a park and leave overnight all the way through Friday morning, but you already knew that). You'll click a box acknowledging some basic rules such as NO SILLY STRING within twenty miles of the inflatables, and then you will proceed to the payment screen.
The last screen is where you'll pay the deposit. Just $50 bucks holds your stuff for you and then on the day of delivery you can pay the balance in either cash or card. Choice is yours! We like making things as easy as possible. You will receive a receipt in your email inbox that will let you know that you are on your way to have a fantastic time with your friends and family, the in-laws and the out-laws because your goodies are coming the day before...and while you're out Black Friday shopping the day after Thanksgiving, we'll stop by and pick up the Party Rentals.
Well...there you have it! One hot and fresh Thanksgiving Coupon Code for your party rental needs. Give us a call at 910-986-4774 if you need help.