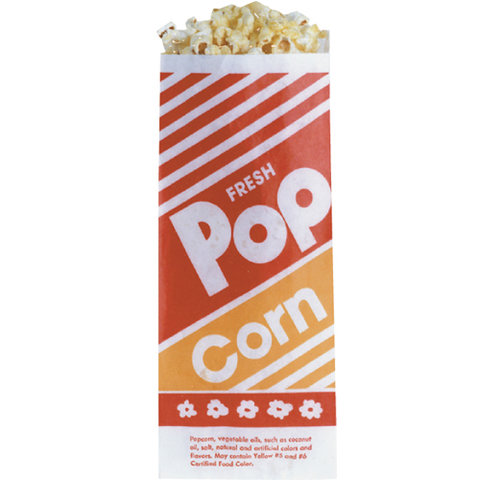 Popcorn Bags
Paper Popcorn Bags
Concession Supplies: 6 Ounce paper popcorn bags
The bright red and orange design of these paper popcorn bags quickly grabs attention for popcorn! While your rental of a popcorn machine will come with supplies to serve 50 guests a yummy 6 ounce serving of popcorn that may quickly run out if you are hosting an event where you are expecting a large turnout. Especially if you are selling popcorn at a fundraiser you want to make sure that you have plenty of paper popcorn bags on hand to be able to keep up with demand. You do not want to miss out on profits at your fundraising event because you ran out of popcorn bags.

These Popcorn Bags each hold .6 oz. of popcorn. A great size for small hands!

Sold in packs of 50.