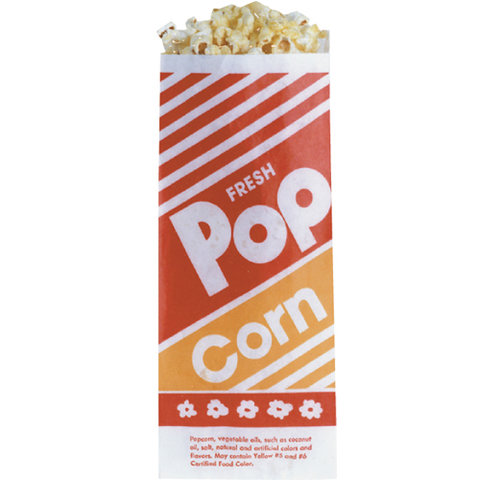 Popcorn Bags
Popcorn Machine Supplies: Paper Popcorn Bags
Concession Supplies: 6 Ounce paper popcorn bags
Red & White Striped Popcorn Bags
The bright red and orange design of these paper popcorn bags quickly grabs attention for popcorn! While your rental of a popcorn machine will come with supplies to serve 50 guests a yummy 6 ounce serving of popcorn that may quickly run out if you are hosting an event where you are expecting a large turnout. Especially if you are selling popcorn at a fundraiser you want to make sure that you have plenty of paper popcorn bags on hand to be able to keep up with demand. You do not want to miss out on profits at your fundraising event because you ran out of popcorn bags.

These Popcorn Bags each hold .6 oz. of popcorn. A great size for small hands! Sold here in packs of 50.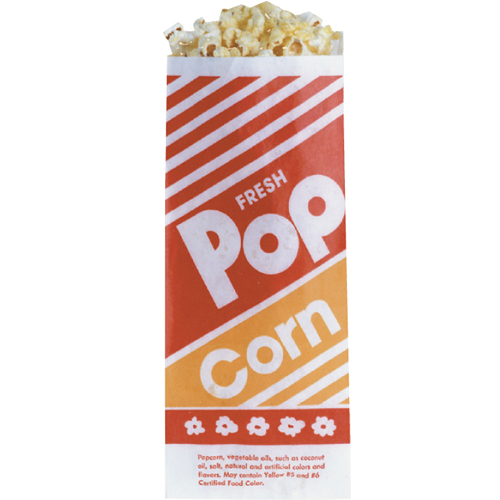 Popcorn Party Favor Bags
You can use your popcorn bags for more than just serving popcorn. If you are hosting a carnival themed birthday party then using the popcorn bags to hand out party favors to your guests would be so cute and fit the theme. You could fill the bottom of the bag with popcorn then stick the other small favors in the top to create a very economical and cute party favor treat that will impress your guests.
Carnival Popcorn Bags
Step right up to the best tasting freshly popped buttery kernels of popcorn served in cute carnival popcorn bags. These bags are specially coated and designed to prevent the oils from the popped corn from leaking through and making a mess. Your carnival themed event deserves the best in terms of style and function and you get both when you choose these popcorn bags for your event.