Pony Ride Rental
Setup Area: Level area free from holes or steep grades.
Age Group: 1+ (rides limited to children ages 1-12 and under 90 pounds)
Attendants: Requires an adult to assist children getting on and off of the pony





$299.99

Please call to reserve this item

Pony Ride Rentals: Pony Rides for Birthday Parties
Where Can I Rent a Pony for a Birthday Party?
Carolina Fun Factory offers pony ride rentals for most areas of North Carolina including Asheboro, High Point, Burlington, Apex, Fayetteville, Raeford, Southern Pines, Pinehurst, Asheboro, Durham, Cary, Raleigh, Holly Springs, Fuquay-Varina, Sanford, Garner, Greensboro, Rockingham and beyond. When you are looking for Pony Rides Near Me then look no further that our sweet and beautiful ponies of all sizes, shapes and colors.
Pony Rides for Parties
A pony ride rental from Carolina Fun Factory is a must if you are planning on hosting a pony party. No pony party birthday party is complete without a pony ride rental that comes to your location. Pony rides at a birthday party are a great entertainment option that will provide smiles and memories for years to come. To make your pony ride rental for your child's pony party a success there are a few things to consider and questions that you may have.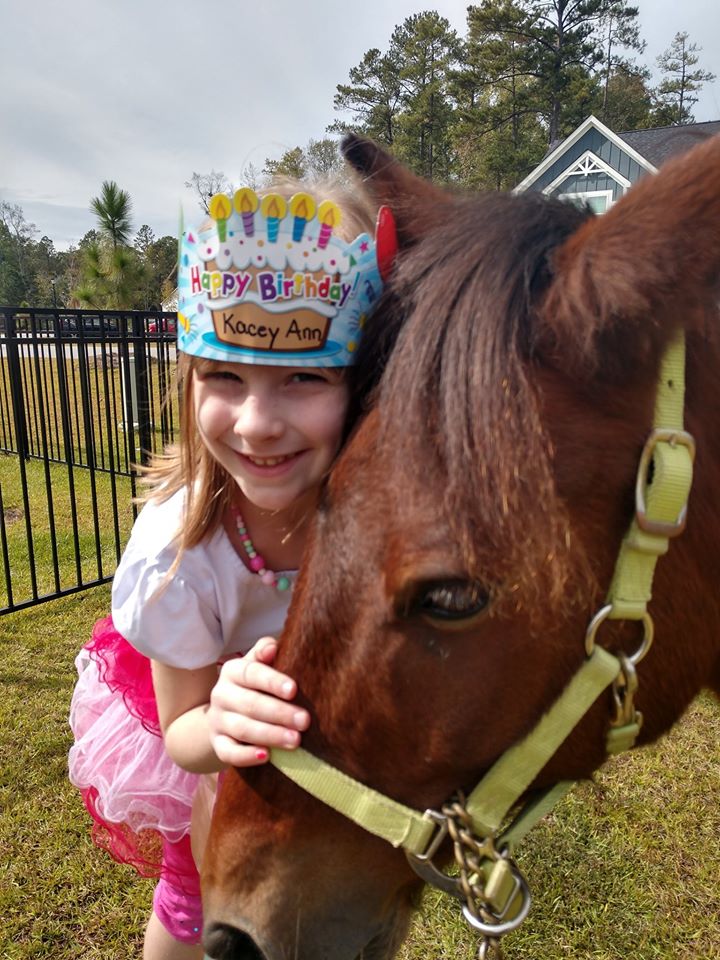 What Size Pony Rental Do I Need?
A small pony rental is a great choice for small children up to 50 pounds. A medium pony rental will serve children up to 75 pounds and a large pony rental can handle rider weights up to 100 pounds. Small children do feel more comfortable on the small pony rental as opposed to a large pony rental. It is important to keep in mind that while a small child can ride a large pony, a larger child can NOT ride a small pony. If in doubt, please ask your guests to let you know what children are coming, and their weights, because of needing to select the correct sized pony rental for your party. A lot of party planners will rent a small pony AND a large pony rental in order to accommodate all size ranges of children.
What Age Can A Child Ride a Pony?
Pony ride rentals are fun for most ages, however it is important to know that there are a few age restrictions to a pony ride rental. A pony ride rental can provide a great experience for children and create wonderful memories that are cherished forever. Pony rides for kids also provide fantastic opportunities for photo ops especially since everyone has phone with camera capabilities it seems. However, very small children who are under 1 year of age just aren't ready physically for this kind of experience. For children who are older than one year of age but under 3 years old, an adult side walker should be present to walk next to the child and to help that child enjoy their experience. If the child seems absolutely frightened of riding a pony then please be respectful of that child's feelings and do not force them to ride the pony. Pony rides are for children only, so sorry teenagers but 12 years of age is the cut off for pony rides regardless of being within the right weight range.
How Many Pony Ride Rentals Do I Need for My Party?
A pony ride rental can accommodate up to 12 children very comfortably within an hour with most children being able to get more than one ride. If you allot 5 minutes per child to ride the pony and pose for pictures then twelve children fits well within a 1-hour pony ride rental. Very often however, parents will rent two party ponies so the birthday child can have their own time with their own pony ride rental while allowing guests to share the other pony ride rental.
How Much is it to Rent a Pony for a Birthday Party?
Pony ride rentals for your child's birthday party are much more affordable than you may think! While we do strive to keep our prices affordable for most party planners, we do have to cover costs of keeping a pony year round which entails many expenses. A pony needs many things to be healthy and happy: the right kind of training, exercise, plenty of room to roam, shelter, good food, clean water, hoof care, vaccinations, dental care, supplements and lots and lots of love. The price you pay for renting a pony to come to your child's party covers these expenses and affords for other necessary items such as trucks, trailers, fuel, maintenance, insurance, vet certificates, saddles, blankets and, and, and... You can smile as you rent a pony for a birthday party from Carolina Fun Factory knowing that not only will you make your child's dream come true but also you are keeping a pony healthy and happy. A basic pony rental with a single party pony starts at $249.99 for the first hour with each additional hour at $100.00 per hour. If you choose to rent additional party ponies for your party then the rental rate is per each additional party pony.
Do Ponies Enjoy Going to Birthday Parties?
Party Ponies are real live animals and their feelings must be considered at all times as well. Ponies are very social animals who do enjoy attention and interaction with others. The party ponies of Carolina Fun Factory are carefully selected for their age and temperament to make them the perfect guest at your child's pony party. Carolina Fun Factory Party Ponies are at least six years of age and are geldings (neutered males) who are trained to be gentle pony ride ponies. As already addressed above, weights are restricted to make sure that the ponies are not overworked or carrying more weight than they should which could result in their injury. The amount of time that a party pony typically spends at a party is no more than two hours and during that time the pony gets plenty of breaks. During the course of a birthday party children will get in line to ride the party pony, then run off to do something else, then come back to ride again, so very often the pony is not walking nonstop. The cinch which holds the saddle securely in place isn't tightened until it is time to ride. You will also see the pony's front legs get stretched out so that nothing is pinching behind the elbow. Once the rides are over the cinch is loosened and the saddle is typically removed for the ride back to the farm.
How Do I Rent a Pony?
Rent a pony for a pony party by simply calling Carolina Fun Factory at 910-986-4774. You'll need to know the date of your party, the time you want the pony rides to begin, how many ponies you need at your party, how long you want the pony rides to last, and what size party ponies you will need. If there are any other items you would like to add on to your pony party to make it a success then we can help with that as well. While we are reserving the pony rides we can also reserve a tent, tables, chairs, concessions and yard games to make your party complete.
CUSTOMER REQUIREMENTS
Please keep dogs inside for the duration that the pony is present on the premises.

Please plan a ride area away from inflatables, grills, trampolines, and other busy activities.

Pony Rides require level ground that is free from any holes, trip hazards.