Petting Zoo with Pony Ride Package
Outlets: 1
Age Group: ALL
Attendants: 2





$399.99

Please call to reserve this item

Zoo & Pony Party Package
Farm Animals and Pony Rides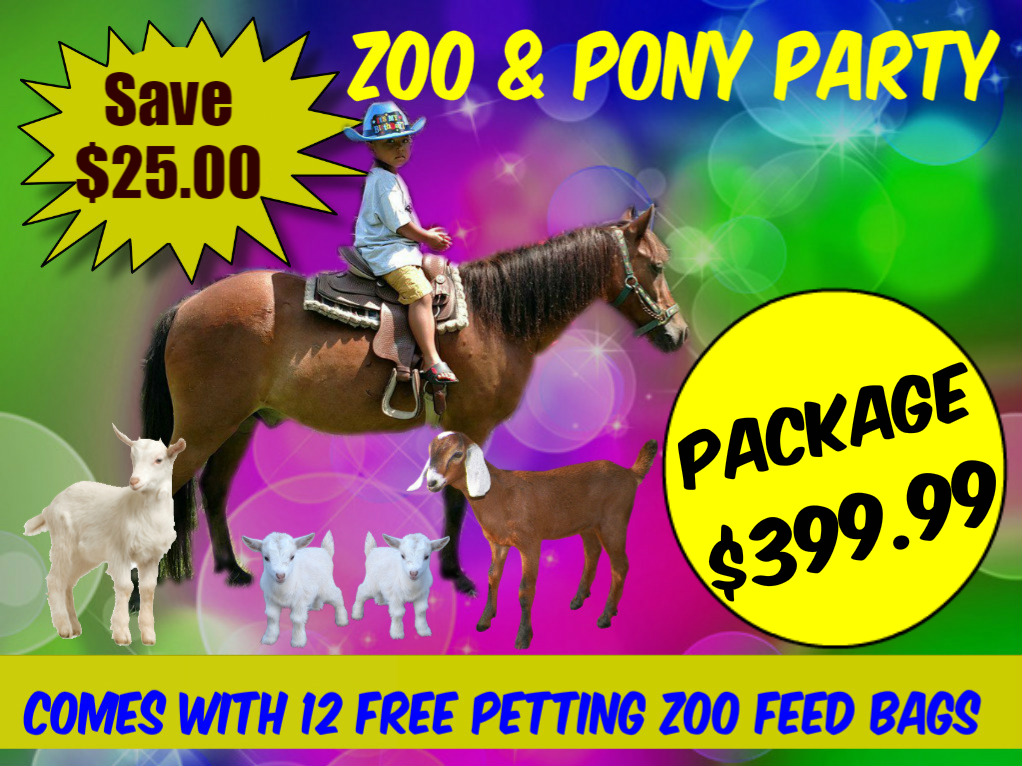 Down on the Farm Birthday Party
The Pony Ride with Petting Zoo Party Package is one of our most popular packages that keeps guests of all ages entertained. Adults in attendance at your party will also enjoy this opportunity to take pictures, and learn about these much beloved farm animals. Children can take turns riding a pony and then between rides can visit with a farm animal petting zoo.
Pony rides are for children ages 12 and under and for riders who do not exceed 90 pounds. Children under 12 months of age are not permitted by insurance regulations to ride upon the pony, however a parent may stand with their infant by the pony for pictures. Pony rides are in an area near the petting zoo and away from other busy areas. Please make sure that parents know that they will be responsible for assisting their child on and off of the pony. Our handlers do NOT lift children to assist them on or off of the pony. Parents of riders under 4 years of age will need to walk with their child during the pony ride and will need to be made aware of this in your party invitations.
The petting zoo includes a variety of farm animals that may include sheep and goats and possibly a mini cow depending upon availability. The number of animals in the petting zoo and the types of animals are subject to change without notice but you are always guaranteed to have at least 6 animals in your petting zoo. The Petting Zoo comes with 12 complimentary feed bags for your youth guests. Additional feed bags are available in sets of 10 for $20.00. You may buy these on the day of your party. Just be sure to have cash in the correct amount ready for your delivery person.
This package is value priced at $399.99 for 1 hour. Each additional hour with this package is priced at $100.00. No other discounts are available on this pony ride and petting zoo party package.
This package is available for rent to private, small birthday party type events with 12 or so children in attendance. The number of animals and a single pony will NOT serve a large crowd. For packages that will serve a larger crowd please call our office at (910)986-4774 to inquire about our pony carousels and larger petting zoos.