Petting Zoo Rental
Actual Size: 8 feet by 8 feet
Setup Area: 16 feet by 16 feet. Need access to water for animals. Additional set up fees apply to setting up on driveways, indoors, or in areas greater than 20 feet away from our truck and trailer
Outlets: 0
Age Group: ALL
Attendants: 1





$249.99

Please call to reserve this item

Petting Zoo Rental NC
Rent A Petting Zoo in North Carolina
Petting Zoo Party Rental Near Me
If you have been looking for a petting zoo to rent for a birthday party to rent then the Small Petting Zoo rental from Carolina Fun Factory is your best choice.The Small Petting Zoo offers a sweet group of animals with funny personalities and adorable shaky tails for your private, social event. A Petting Zoo rental will bring lots of smiles as people of all ages interact with these healthy, friendly animals. Our staff are simply the best at telling folks all about the animals! All of the animals have names and their own personality. Many people have a hard time picking their favorite little goat or sheep from this assortment.
How Much Does It Cost To Rent A Petting Zoo For A Party?
The small petting zoo is priced to be very budget friendly for a small private event at just $249.99 for the first hour then just $100.00 for the second hour. The price does include a small amount of feed to allow approximately 12 guests to feed animals within an hour. Typically the animals get full on this feed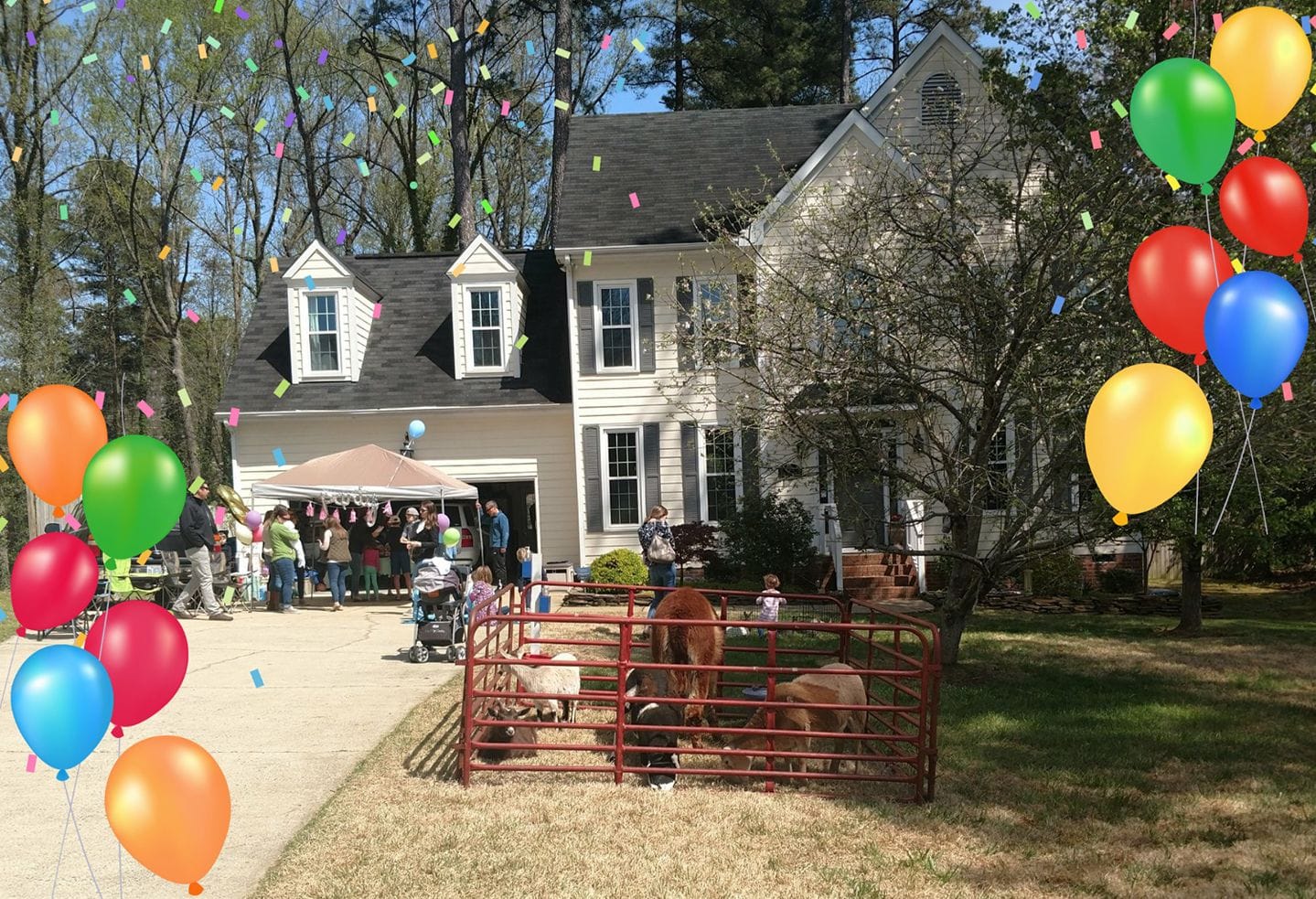 Mobile Petting Zoo Birthday Party
This little zoo contains healthy and friendly animals to include a mixture of sheep, goats and a mini cow to equal 8 animals that love to eat from the hands of your guest.

You and your guests will enjoy interacting with these adorable farm animals for 1 hour. Set up and tear down time does not come from your party time.

Complimentary feed bags (12) are included in this package. You may purchase additional feed bags (sets of 10 for $19.99) Don't forget to add them to your order. You may order the Feed Tote (50 pounds of feed) and 200 pixie cups for your guests but please note that the animal to human ratio will mean that the animals will get full quickly and will refuse to eat beyond what they are comfortable with.

To keep everything sanitary, your set up will also include a complimentary antibacterial hand-sanitizing station. If you would rather have a portable hand washing station then you MUST let us know upon ordering and please be aware that is a $75.00 add-on charge. You must also provide a garden hose and water spigot to reach the area and have a place for used soapy water from the station to be emptied to upon completion of the event.

A professional animal handler/educator who remains with the exhibit and answers many common questions that your guests will have. It's quite educational!
HOW TO ORDER
1) Select the DATE that your event will be held.
2) Select the EXACT TIME that you want the Animal Exhibit to be available to your guests
3) Select the EXACT TIME that you want the Animal Exhibit to be completed at your event
4) Select the set up LOCATION for your petting zoo. There are additional charges for backyard, indoor, or concrete set up locations.
5) Select the number of additional feed bag sets (if any) to add to your order. (Sold in sets of 10 for $19.99)
SPECIAL DETAILS & CUSTOMERS RESPONSIBILITIES
We will arrive at your location about 1/2-hour prior to the Animal Exhibit start time to get set up.

Customer or customer's representative MUST

be on site to allow us access to the set up area.

Customer is responsible for providing water for the animals during the event

Customer is responsible for providing hose that can reach from the spigot to the Animal Exhibit area

Trucks/trailers MUST be able to have immediate access to the set up area and will remain with the exhibit.

You will be able to select the set-up surface during the checkout process. Please be aware that there is an additional $50 charge to set up indoors or on hardtop/concrete surfaces as tarps and animal bedding material will need to be placed down.