Monster Truck Bounce House Slide
Actual Size: 35L x 17W x 18H
Setup Area: 45 feet length, 22 feet overhead clearance (additional charge for set up on pavement or hardtop)
Outlets: 2
Age Group: 3+
Attendants: 1




Monster Truck Bounce House Slide
Have you been looking for Monster Truck Bounce House rentals near me? Then welcome to the end of your search as you have found the best monster truck bounce house that also has a slide in the central North Carolina area. Both young and young at heart have been fascinated by the real monster trucks of Monster Jam for years. Monster trucks developed in the late 1970s and came into the public eye in the early 1980s as side acts. The very first truck that is responsible for the phrase "monster truck" being coined is the "Bigfoot" which is the first truck to ever crush cars as a demonstration. In the evolution of Monster Truck exhibitions, there have been many monster trucks that were not actually trucks but also cars and SUVs. Popular names of these monster truck vehicles include Alien Invasion, Blue Thunder, Brodozer, Captain's Curse, Cleatus, Dragon, EarthShaker, El Diablo, and of course the infamous Grave Digger. The name of the Monster Truck Bounce House Slide that is offered as a monster truck inflatable rental for your next event is the Mayhem Monster Truck Bounce House.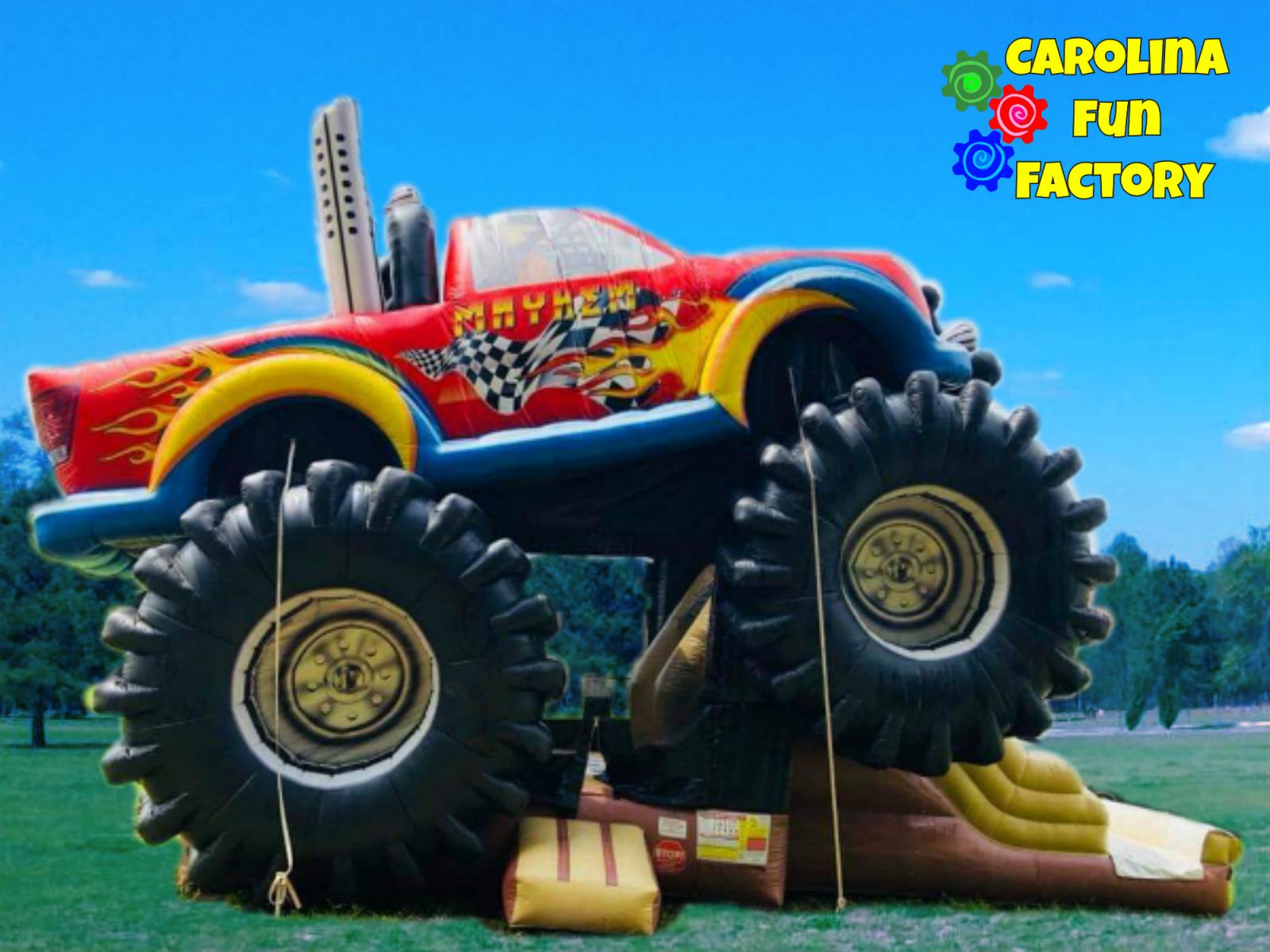 Mayhem Monster Truck Bounce House
This is the most impressive monster truck combo bounce that you will ever see! Just like looking up at a real monster truck, you will be impressed with the graphics on this moonbounce. The smokestacks on this unit reach an impressive 18 feet up into the sky! You will also notice that one of the most fantastic details on the Mayhem Monster Truck Bounce House is its tires. To stay true to the real monster trucks that this inflatable is designed to look like, it also boasts super huge tires with enhanced tread...after all, it would not be a monster truck without monster tires! The tires on a real monster truck are typical "Terra" tires that are used on equipment such as fertilizer spreaders. These "Terra" tires are 66 inches in diameter, 43 inches in width, and fit on 25-inch rims! The tires on this inflatable Monster Truck Bounce and Slide combo are just as impressive as they stand over 5 feet tall! You will definitely get the feeling that you are standing next to a real monster truck.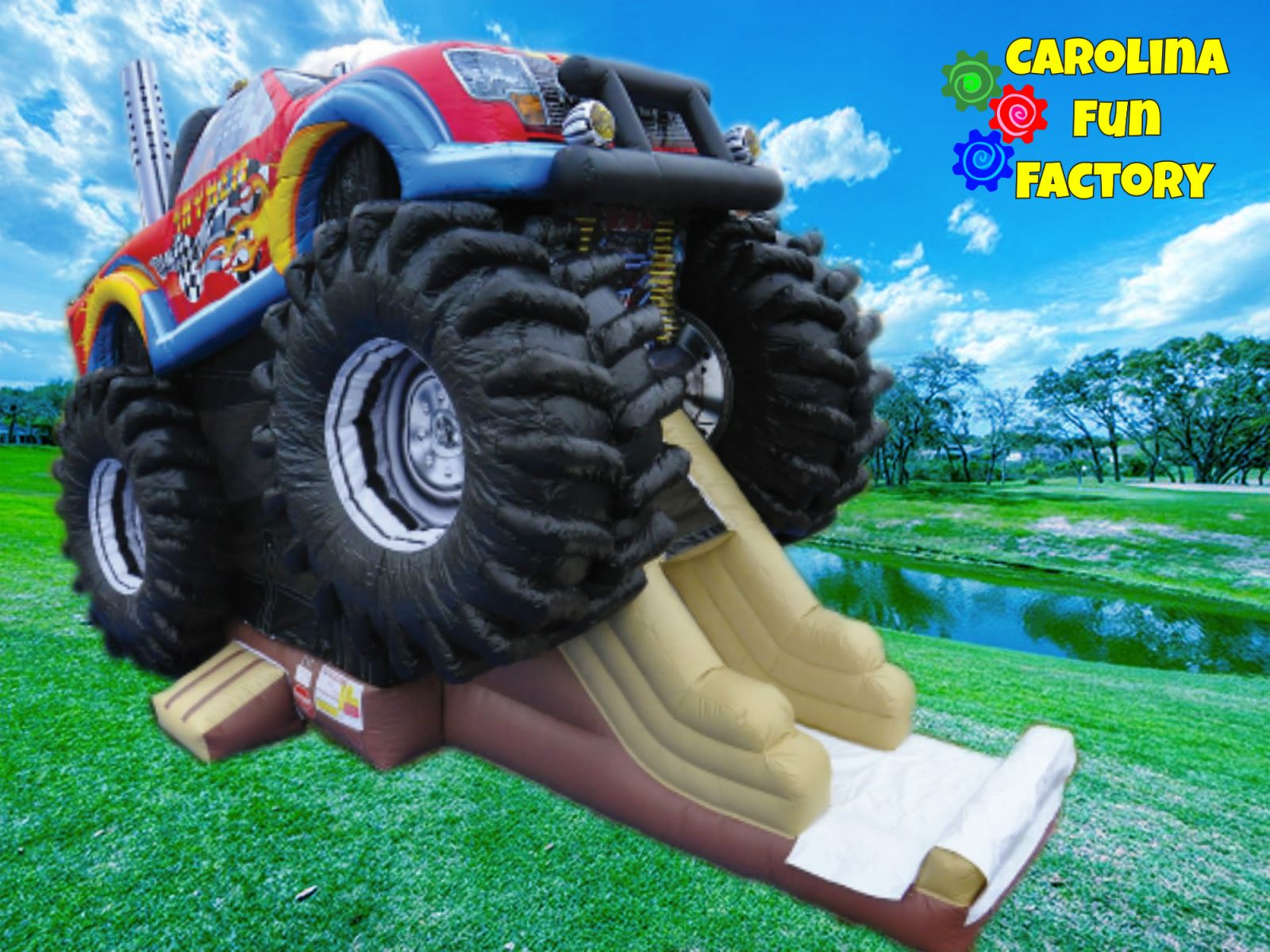 Monster Truck Combo Bounce and Slide
Climb inside of this giant monster truck inflatable to "start your engines" for some real fun! Children, ages 3 and up, will have a great time inside of this moonbounce with its large jumping area. There is more to this monster truck jumper than meets the eye from the outside, however, as you'll also find rows of colored circles stitched right to the floor which will allow the group to engage in a game of Twister right inside of the bounce house. This monster machine is fueled by FUN and the fun doesn't end with the bounce house! Players will also climb up to the top of a single lane slide to slide to victory.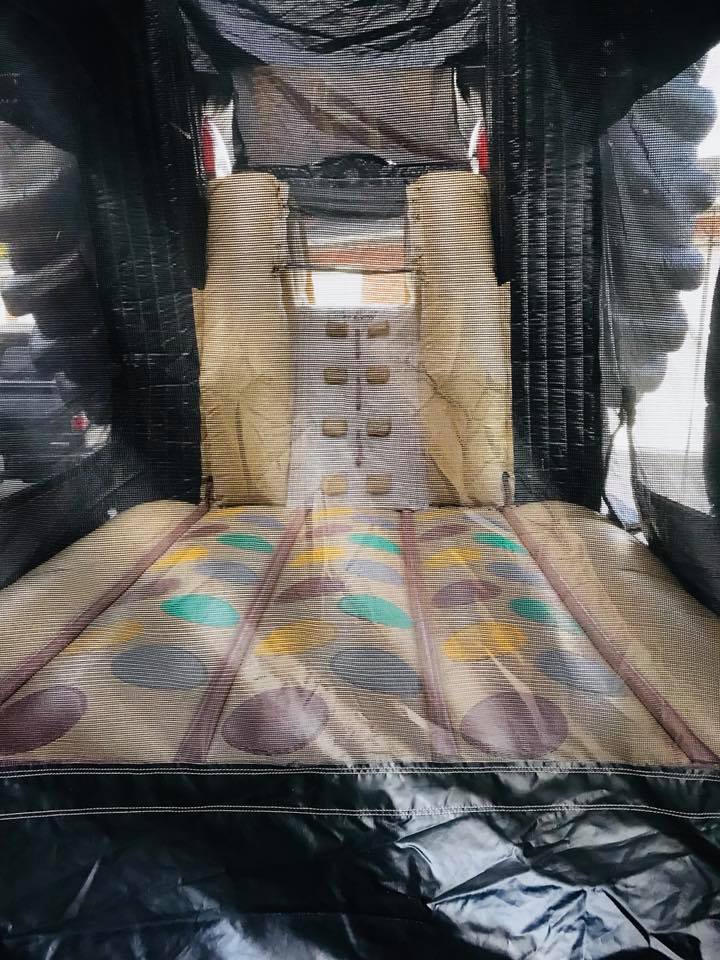 Mayhem Monster Truck Safety Features
A truck as big as a monster truck has to come with some safety features. A real monster truck that you would enjoy watching perform at a monster truck rally has some serious safety features built-in several of which are required just to run in the indoor arenas. A real monster truck is equipped with three shut-off switches in case the truck flips over, and the driver is always wearing a firesuit and has head and neck restraints. Just like it is important for these drivers to be taken care of while they have fun in their monster truck, it is also extremely important that children playing in not only the Mayhem Monster Truck Bounce and Slide but any inflatable, are doing so with safety-first in mind. That is why the details of the Mayhem Monster Truck include the following safety features: Lead-safe vinyl and flame-retardant materials, Fingersafe
™
mesh netting, and a protective sunshade. We know you'll love adding this exciting Monster Truck Bounce House and Slide combo to your next Truck Touch event or truck-themed party. Don't forget to think about your car dealership! This is a very exciting piece to have set up in your sales lot. Not only will you capture attention from passing by motorists, but also the families who stop in will appreciate having something fun for their kiddos to do while they shop your great selection of vehicles.
---