Mechanical Bull Ride Rental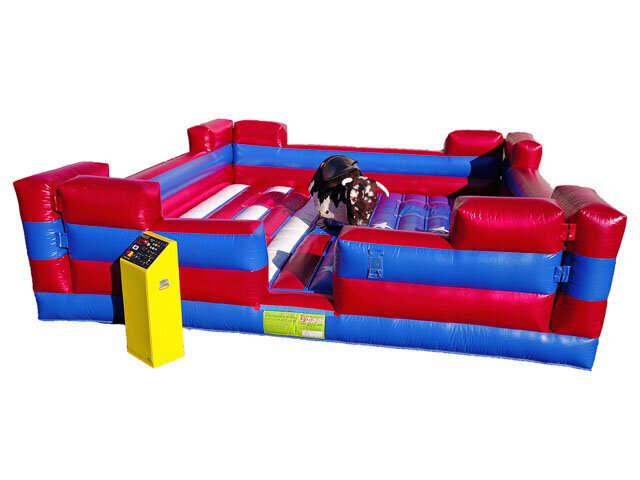 Setup Area: 30 foot x 30 foot
Monitors: One Trained Operator Provided
Outlets: 2 (Console MUST be within 6 feet of outlet)
Description
Mechanical Bull Ride Rental
Game comes with trained operator and is priced for up to 3 hours. Each additional hour just $100 per hour.
Requires a HARD WIRED outlet for the control console no further than 6 feet away.
Control console can NOT be run off of a generator or it will damage the console.
Are you ready to host your most exciting event ever?
Dust off your boots, grab your cowboy (or cowgirl) hat and get ready for the ride of your life! The lifesize bull featured on the mechanical bull ride rental will have you and your crowd saying yeehaw in true old west fashion.
Your group will enjoy this interactive experience with the Mechanical Bull Ride. Your claim to fame can be yours to own if you can stay on for 8 seconds! If you have been looking for a mechanical bull rental near me then your search is over with this classic ride that thrills both young and young at heart! No ho-down is complete until someone rides the bull! The mechanical bull rental is perfect for bachelor parties, bachelorette parties, college events, quinceaneras and more! Sit down and hang on because it is about to be one wild ride!
Safety is always number one and you can rest assured that the trained operator will keep the crowd going wild but also fully trained on the safe operation of the bull. This mechanical bull ride rental also features a safety mat that allows a great view from the crowd but also cushions the fall from those who get bucked off.
CALL TODAY FOR A NO OBLIGATION QUOTE ON THIS MECHANICAL BULL RIDE RENTAL!