Dunk Tank Rental - TOW BEHIND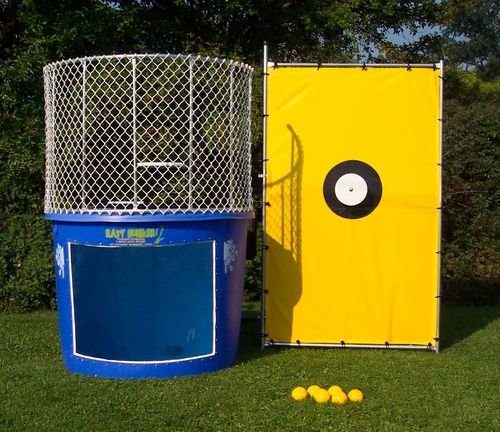 Monitors: 1
Age Group: Only 18 years old and up allowed IN the dunk tank
Description
Dunk Tank Rental: TOW BEHIND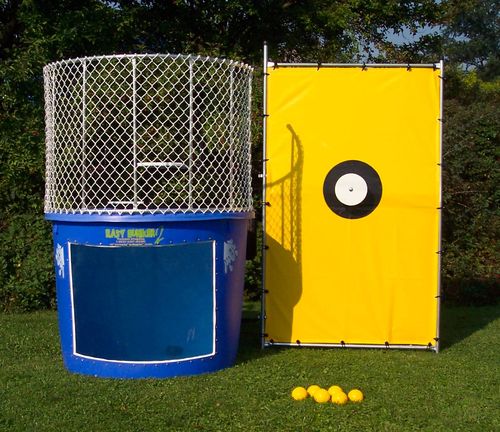 Rent a TOW BEHIND Dunk Tank for Your Church Carnival, School Festival or Fundraiser
If you have a vehicle with a 2-inch ball then you can rent a TOW BEHIND Dunk Tank and have the ability to pick this item up yourself, if you do not wish to have a dunk tank delivered, or if you are outside of our delivery area.
Why Rent A TOW BEHIND Dunk Tank?
Rent a TOW BEHIND dunk tank to offer lots of fun for your guests — especially if you're hosting the event outside on a hot, sunny day. A dunk tank rental will get the crowd cheering and engaging like no other attraction! Excitement always runs high as everyone tries to anticipate when the seat will drop and the person in the tank will get dunked! Rent a dunk tank for your next event and have a popular "celebrity" tease the crowd to get the most participation. A dunk tank rental from Carolina Fun Factory is always a hit with schools, churches and corporations alike. There is nothing like a "Dunk the Principal" or "Dunk the Boss" activity to increase school spirit or corporate morale.
How Does A TOW BEHIND Dunk Tank Work?
A dunk tank, also known as a dunking booth, is a popular attraction used in may fairs, festivals, carnivals, fundraisers and parties. Basically, a dunk tank is a large plastic tank filled with water that has a collapsible, spring-loaded seat attached to the top of the tank. A volunteer will sit on the seat over the water and when a player throws a ball at a target the arm of the target releases the spring which allows the seat to drop thus dunking the volunteer into the water. When towing a dunk tank you will need a vehicle that has a hitch with a 2-inch ball. Dunk tanks are very light so when pulling a dunk tank behind your vehicle you are limited to speeds of 45mph or less and of course being very mindful of road conditions that will cause your dunk tank to "bounce".
Are TOW BEHIND Dunk Tanks Safe?
To ensure that spectators don't miss any of the action, our top of the line 350 gallon dunk tanks contain windows that allow spectators to view the dunked participant under the water. So get ready to enjoy some good, old-fashioned fun with a dunk tank rental at your next event. Of course, safety first in all of our activities...so please note that the dunk tank volunteer must be 18 years of age or older. At no time should any participant in the dunk tank be of less than 18 years of age. When not in use, the dunk tank should be completely drained. Continuous supervision by a responsible adult is required on the rental while it is at your location. Furthermore, to ensure safety while pulling a Tow Behind Dunk Tank with your vehicle you should observe safe driving practices which include not exceeding 45 mph and allowing more clearance before pulling in front of another vehicle on the road.