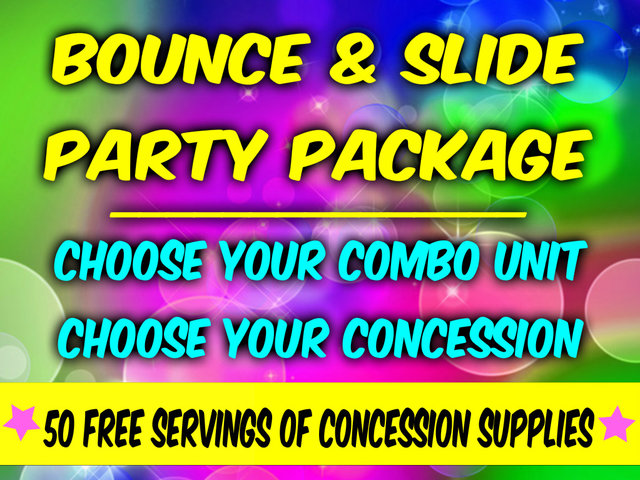 Create Your Own Bounce and Slide Party Package
Outlets: 2
Age Group: ALL
Attendants: 2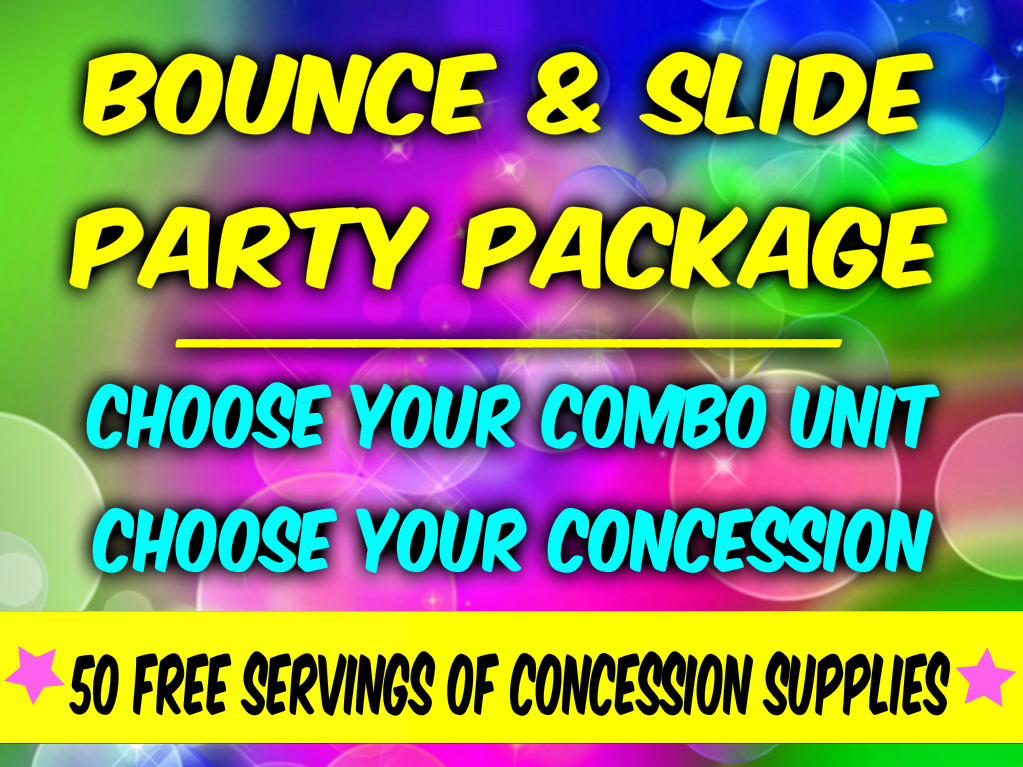 Look what all is included in this rental:
Bounce and slide combo unit of YOUR choice!
Commercial Concession Machine of YOUR choice!
50 FREE servings of concession supplies that YOU get to choose!
Keep for Up to 5 HOURS!
Here is the list of units that you may choose from
Some units will incur an up-charge as they are larger units
Please note the upcharge amount next to each one
Cart will update with the correct amount based upon your choice of combo bounce and slide unit.
| | |
| --- | --- |
| Mini Purple Crush Combo DRY | + 0.00 |
| Unicorn Bounce House Combo DRY | + 0.00 |
| All Star Combo DRY | + 50.00 |
| Carolina Castle Combo DRY | + 50.00 |
| Padgetts Palace Bounce and Slide DRY | + 50.00 |
| Blue Princess Combo DRY | + 50.00 |
| Barnyard Petting Zoo Toddler Bounce DRY | + 50.00 |
| Paw Patrol Bounce House Combo DRY | + 50.00 |
| Fire Truck Birthday Party Combo DRY | + 50.00 |
(Party Packages are already designed with your budget in mind. No other discounts or coupons apply. While Supplies Last!)
---
Increase the fun at your next event with a Bounce and Slide Combo unit that is a hybrid of the ever popular bounce house and the always fun slide! Combo units offer so much more to do than just jump up and down. Many of these units are inclusive of a basketball hoop inside, a climb wall and some even have obstacle courses inside to keep the fun turned up to maximum!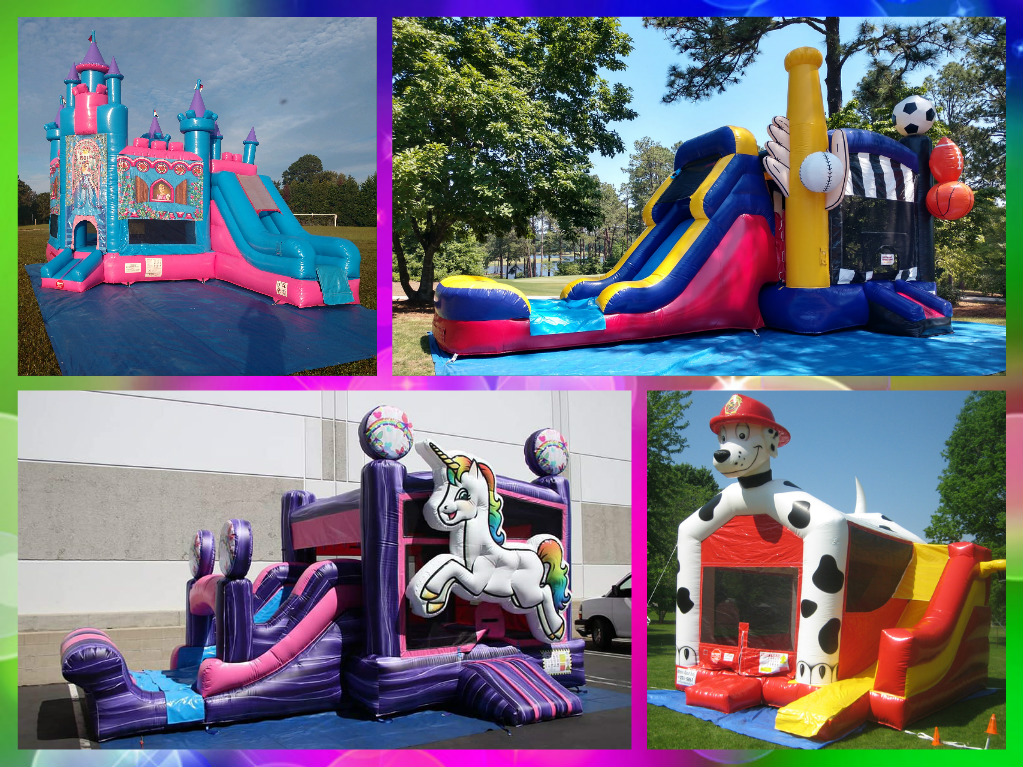 Kids will enjoy a good time while you enjoy the ease of putting together a fun party that doesn't break the budget! You get to choose from our great selection of clean and cheery bounce house jumper with slide combo units to include primary colored combo, a unicorn combo jumper, a fun sports themed combo jump and bounce castle, or an ever popular fire themed combo unit! This is your 'party in a box' to keep the kids entertained and full on delicious movie-quality popcorn. What more could any party planner want than fun, food and savings!

Once you've selected a clean, bright and cheery combo bounce house then you will select which concession machine will make your party great! You may choose from a popcorn machine or a snow cone machine or a cotton candy machine. You won't go wrong with whichever high-quality, clean machine you select. You can trust that we take meticulous care after each rental to clean the machines both inside and out so they are ready to serve your guests with nothing but delicious goodness.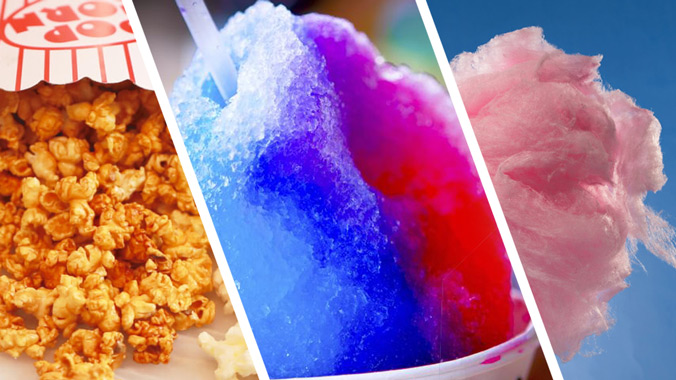 You will need to have an adult to operate the concession machine for your event because there are moving parts, but don't worry....it's super easy to do! We even include a handy instruction sheet that will guide through how to make the yummiest treats your guests will rave about. All that is needed from you besides a helper to operate the machine is a table, a nearby outlet on its' own circuit and some hungry guests! If you don't have a spare table then don't forget to add one or more on plus any additional chairs that you may need.