Greensboro Bounce House Rentals, Water Slide Rentals, and Party Rentals

Carolina Fun Factory is the Party Rental and Event Rental Specialist for Greensboro NC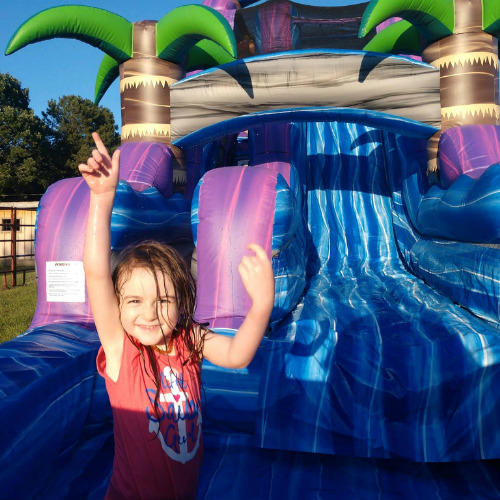 Carolina Fun Factory provides bounce house rentals and party rentals to include: inflatable rentals, dunk tanks, inflatable obstacle courses, yard games, giant slides, concession machines and supplies, water slide rentals, pony ride rentals, mobile petting zoos, portable mini golf, rock climbing wall rentals, trackless train rentals, and Greensboro's best collection of interactive games such as Human Hungry Hippo, Toxic Meltdown, Whack A Mole, Giant Inflatable Twister and a huge Inflatable Sticky Velcro Wall. Whether you're planning a company picnic in the Greensboro area and need a vendor to provide tents, table, chairs and entertainment or are planning a campus event for students to enjoy a fun and interactive experience, you want to rely on a company that adheres to the highest safety standards and proves their commitment to helping your build a high quality event. We earn your trust by being state inspected for our rides and inflatables, being covered by a commercial general liability policy and by voluntarily undergoing annual safety recertification classes. When event planners in Greensboro NC are ready to get their gears turning to build the best event ever and still stay within budget they reach out to Carolina Fun Factory. Greensboro, North Carolina is a wonderful place to work and play within Guilford County. Many Fortune 500 companies have headquartered in Greensboro making it a very desirable location for families to reside and grow. Carolina Fun Factory is pleased to partner with many event planners from Greensboro based companies to assist with company picnics, corporate team building events, trade show booth attractions, fund raising efforts and membership meetings where party rentals such as inflatables, games, tents, rides and more are pulled together to build a memorable event.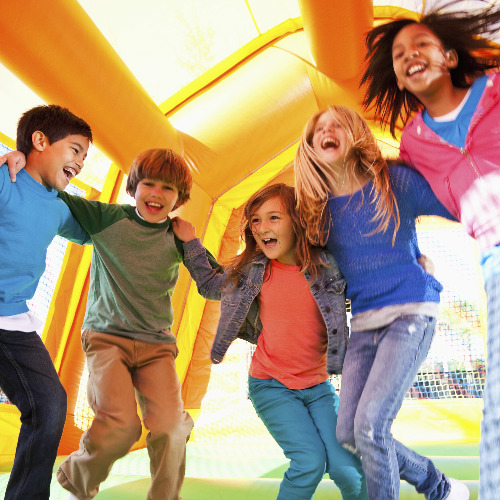 Carolina Fun Factory is your best choice for bounce house rentals in Greensboro, NC. Build your party with the best bounce House rentals, water slide rentals, obstacle course rentals, tent rentals, table rentals, chair rentals, trackless train rentals, rock climbing wall rentals, Euro bungee rentals, mini golf rentals, children's party entertainment rentals, corporate event rentals and birthday party rentals. If you are looking for the best quality party rental or event rental equipment, you have found the rental company to best meet your needs. Let Carolina Fun Factory bounce house rentals and party rentals carefully and professionally take care of your needs and show you why we are rated number one in the Greensboro bounce house rental and party rental industries for quality and customer service. We are the bounce house rental leader in the area with years of experience in the Greensboro NC and Piedmont Triad area. Our business been around for so long that we have seen bounce house rentals and water slide rentals called moonwalk rentals, bouncy castle rentals, jumpy thing rentals, rental bounce houses, bouncy house rentals, jumper jacks rentals, bouncing house rentals, waterslide rentals, blow up slide rentals and more. No matter what they have been called through the years, they provide a chance for toddlers through adults to bounce and have fun. Located near Greensboro NC, our bounce house rental, party rental, and event rental business can service you within our delivery area for a small delivery fee. Greensboro is one of the largest areas that we service providing bounce house rentals and party rentals including residential customers, churches, universities, schools, daycares, and businesses. We have serviced many churches and daycares for years in Greensboro, NC and have built many lasting relationships.
Greensboro is known for its vast amount of shopping, outdoor recreation areas and entertainment. There are an unlimited number of places to have bounce house rental parties and special events. Our Greensboro bounce house rentals offer a larger sized selection than most other companies. We also service High Point from our Greensboro delivery area. The Greensboro Parks and Recreation Department offers numerous to have bounce house rental parties. We have had the privilege of setting up at many of their parks and facilities. If you are considering having your bounce house rental, trackless train rental, or party rental at one of the city parks, do not forget to contact the parks and recreation department to reserve your spot and time and take care of any paperwork they may have for you. You can connect to their website and reserve your park space online. Carolina Fun Factory has a proven track record in the bounce house rental and party rental industry. We strive to be the best at what we do. We are fully insured and are state inspected annually for safety and as required by NC State law for bounce house rentals and party rentals. Our staff are fully trained and held to the highest standards and accountability in the industry. Our mission for Greensboro is simple; we want to provide the best quality equipment at the lowest prices we can offer them on bounce house rentals and party rentals while maintaining a high level of customer service and satisfaction. Give our friendly and professional staff an opportunity to make sure that your Greensboro party rentals, table and chair rentals, and event rentals are delivered on time and setup safely for a party rental you will always remember. We offer unique inflatables rentals with many different themes to choose from. Our business offers a great selection of party rental items including: bounce house rentals, inflatable water slide rentals, bounce house combos with slide rentals, toddler inflatable rentals, trackless train rentals, obstacle course rentals, interactive inflatable rentals, Pony party rental, Unicorn pony rental, Petting Zoo rentals, tent rentals, table and chair rentals, Yard game rentals, carnival game rentals and backyard game rentals, dunk tank rentals, rock climbing wall rentals, mini golf rentals, euro bungee rentals, Picnic Game rentals, Concession machine rentals, and food machine rentals. Greensboro Party rental packages are also offered so that you can save on multiple games and items. Check out our complete inventory to see how we can make your next event a success. Carolina Fun Factory is proud to be Greensboro's #1 bounce house rental, party rental, and event rental company.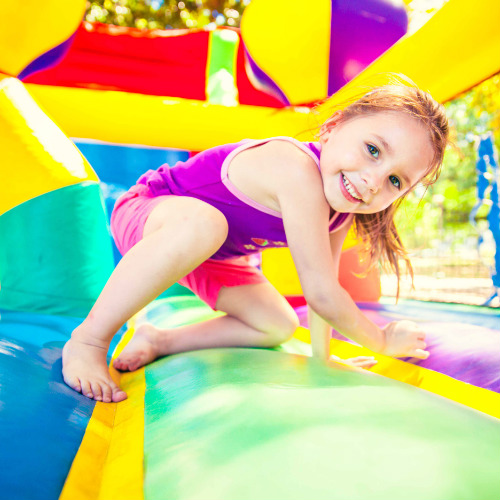 Bounce House Rentals Greensboro NC
Greensboro bounce house rentals are perfect for your child's birthday party where they can celebrate in the safety of their own back yard with friends and family. Can you think of the last time that you were at a church spring carnival or school fall festival and did not see a bounce house? Of course not because these colorful inflatable bounce castles are a beacon of fun at any event where you are entertaining children and families. We love bounce houses and we know that you do too! These inflatables are colorful and promote healthy activity and positive interaction. Bounce house rentals from Carolina Fun Factory are commercial quality and sanitized before every use. Bounce houses come in as many varieties as the children who enjoy them. There are Princess bounce house rentals for those little princess birthday parties, and bounce houses that are coated in sparkly glitter as well as bounce house rentals that will fit banners just in case you would like to customize your party. Primary colored bounce house rentals will fit any theme for boys or girls. Some bounce house rentals even have basketball goals inside which add even more to the excitement of the party. So if you are planning any kind of event where childrens party entertainment is needed then you are in luck because you have found the best bounce house rentals Greensboro NC has to offer.
Greensboro Bounce House Rentals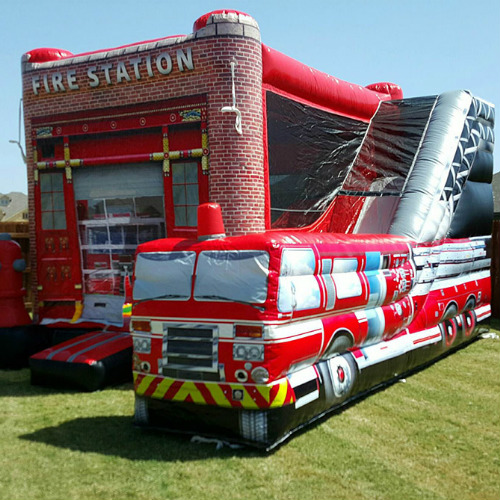 Combo Bounce House with Slides
Greensboro and other areas of the Piedmont Triad have discovered that while bounce house rentals are fun the bar is raised even higher with a bounce house that also has a slide and other fun elements. These unique bounce house rentals are called combo bouncers by most or jumpers with slides by some. Whatever you choose to call them the kiddos will certainly call them fun! You will find an amazing assortment of these combo bounce house rentals right here and select from unique jumpers such as the Fire Station Combo Bouncer House Rental that both boys and girls really love. If you are planning a Unicorn Birthday Party and going with the unicorn theme party then of course you will want to check out the Unicorn Bounce House rental that absolutely screams UNICORN. This pink and purple inflatable has a large covered jumping area and also a basketball goal inside but probably the best part is the huge 3-d unicorn on the front with rainbow mane and tail. For truck rodeo events then you will not want to miss out on the absolutely huge Monster Truck Bounce House rental. Mayhem the monster truck is larger than life and has details that make it look like it belongs in the Greensboro Coliseum bouncing over objects. Whichever combo bounce house with slide you choose you are guaranteed to choose a winner.
Bounce House with Slide Rentals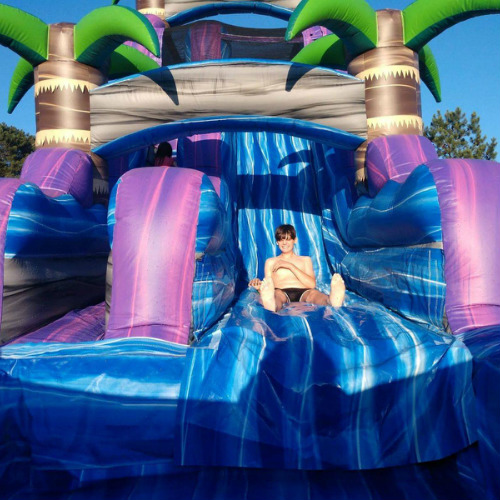 Greensboro NC Waterslide Rentals
Why wait in long lines when you can beat the heat with a waterslide rental and have your own private water park. Many Greensboro neighborhoods will get together for summer cook outs and have several inflatable water slide rentals that kids and adults can enjoy. The little kids will enjoy bounce houses with water slides that are appropriate for their size while the teens and adults will be excited to feel the thrill of our long slip and slides and super sized water slide rentals. We have got the selection and package pricing that will not only cool you off but save you some cold hard cash.
Waterslide Rentals Greensboro NC
Greensboro Church and Campus Event Rentals
Church VBS and Community Event Rentals
Greensboro churches are vibrant and active with events that include spring carnivals, VBS, youth ministries, young adult ministries, fall festivals, and family oriented community events. Carolina Fun Factory offers the best bounce houses rentals, dunk tank rentals, obstacle course rentals, giant inflatable slides, pony rides, petting zoos, trackless train rides, rock climbing wall, mechanical rides and games to create a fantastic experience at your Greensboro church event. Whether its a spring carnival, youth lock in, VBS entertainment or fall festival, trust us to help you build your best event ever.
Greensboro College and School Event Rentals
Bounce house rentals for campus events are the standard for Greensboro schools and colleges. From elementary schools and preschools up to high school and college campuses all around Greensboro, students enjoy the special events that enhance their student experiences on campus. The traditional bounce house rental has evolved from having a simple bouncey castle rental to building an entire event that includes inflatable obstacle courses, giant inflatable slides and interactive game rentals that allow many guests to participate at once.
Greensboro Corporate Event Rentals
Company Picnic Rentals in Greensboro
Greensboro is a wonderful community for hosting a company picnic. With so many beautiful parks and outdoor locations to choose from a company picnic is a fun way to unite your company by bringing its' employees together in a relaxed and casual atmosphere.
Corporate Team Building Events in Greensboro
Together Everyone Achieves More! The same is true when you look for a partner to coordinate your team building day activities. You are looking for fun and engaging ways to bring your team together to problem solve and build cohesion. Let us be your team building partner to help you build a team building event that will meet your goals and surpass your expectations.
Order-by-Date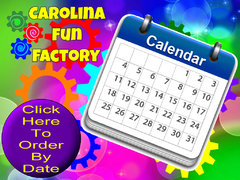 Interactive Games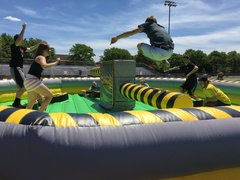 Movie Screens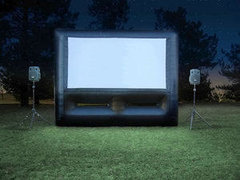 Toddler Inflatable Rentals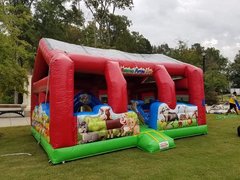 Inflatables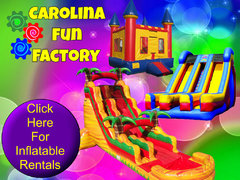 Tents Tables and Chairs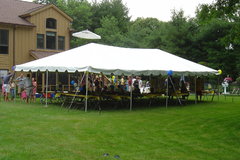 Event Games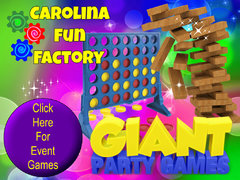 Trackless Trains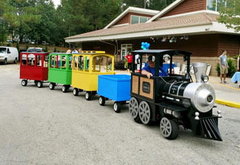 Miniature Golf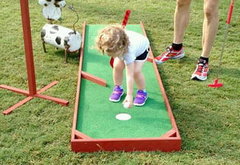 Animal Exhibits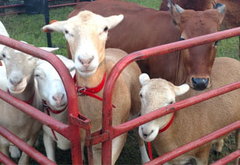 Ponies and Unicorns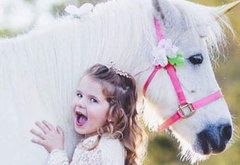 Packages and Specials